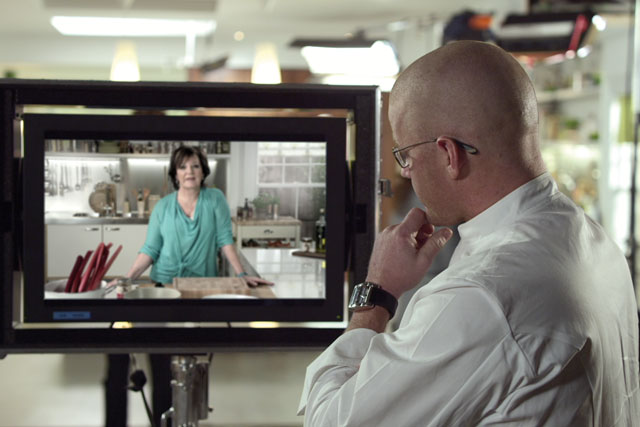 Listening to Mark Price rattle off the plans Waitrose has under its counter - from carving out a substantially bigger slice of the food retail market at home to significantly boosting its presence abroad - it is impossible to believe that the founders of the supermarket's parent company, John Lewis, once scorned advertising as a waste of money.
Or that Waitrose's first marketing chief had to be packed off to INSEAD and the London Business School to learn how to do the job.
Twelve years on, the investment in Price's further education has provided handsome returns. Waitrose has answered the Jeremiahs who predicted the recession would knock it for six by becoming the UK's fastest-growing supermarket chain with food sales last year matching Marks & Spencer.
Now, with Price its managing director, Waitrose exudes a self- belief that is reflected in a big TV campaign. Starring the TV chefs Delia Smith and Heston Blumenthal, it was created by MCBD with media planning and buying done through Manning Gottlieb OMD.
The ads have been credited with attracting 100,000 new customers a week to its stores. This has bolstered Waitrose's confidence to such an extent that its adspend for 2010 will be a 60 per cent increase on last year's reported £22 million, giving it a weekly TV presence instead of its traditional showing four times a year.
Big ambition
Waitrose is fast becoming an FMCG brand in is own right thanks to a broadening of its customer base - it has signed deals to sell its own-label food in Boots outlets and Shell service stations, as well as its network of 300 convenience stores currently in development. Within the next two or three years, the supermarket will have about 1,500 "points of purchase" in addition to its own 225 stores.
All this is in line with Waitrose's declared aim of increasing its share of the UK food retail market from 4.3 per cent to 10 per cent over the next decade.
That is a tough challenge because of the tight planning restrictions on the building of new stores, which is why Waitrose is seeking more organic growth. And Price bullishly declares: "We're confident we can do it."
It is hardly surprising that Price's personal star has risen alongside Waitrose's barnstorming performance, so much so that when Marc Bolland stepped down as the William Morrison chief executive last year to run M&S, Price was mentioned as a possible successor.
However, the prospect of a £2 million pay packet was not enough to trump Price's loyalty to Waitrose - and he is adamant that he is staying put for a long while yet.
But while much at Waitrose is changing beyond all recognition, its core principles remain.
Just as its founders believed that the environment of their stores and the quality of their products were the best possible advertisement, so Price believes the excellence of Waitrose's food range remains its key asset.
He cannot hide his contempt for a rival supermarket that sells sausages for 2p each and shudders at the thought of what they contain. "We sell fantastic sausages at 16p each," he enthuses.
Price believes that Waitrose's dedication to food provenance will enable its transition from "the grocer for the middle class" to a provider of quality food irrespective of a customer's budget.
He has already grown sales through the launch of the value line, essential Waitrose, and by discounting the ingredients in the recipes presented by Smith and Blumenthal in the TV spots.
"We're not about class," Price insists, pointing out that Waitrose sells a perfectly drinkable wine at £3.99 a bottle and another, at £550, for those with expensive tastes and pockets to match.
"We're not setting out to be a posh person's shop," he adds. "We want to sell the best quality food in the UK and to make it as widely available as possible."
Exploring new areas
Under Price, Waitrose is also evolving in some unexpected ways. Not only has the latest TV campaign sparked a heavy demand for recipe cards and much precipitated online activity, but there is also a 16-page weekly newspaper available in all branches each Thursday, with the aim of pulling in more customers over the weekend.
Meanwhile, Waitrose Food Illustrated has been given a makeover by its publisher, John Brown, and £10 million is being spent on upgrading the supermarket's website. Price sees all this as an unintended but welcome consequence of the company's ambition. "We've become a media owner," he says. "I think this is a really interesting development for our business and one that gives us an opportunity to develop our skills."
All of which makes you wonder if Waitrose is out to put a serious dent in Tesco's market domination. Price insists that is not the game plan, suggesting that even if Waitrose fulfils its ambitions, its market share would still be only a third of its leviathan rival.
"I think that what Terry Leahy has done is remarkable and you have to admire the way Tesco has built its business," he explains. "It wouldn't be right for our brand to be as big as Tesco. We don't want to be a bank or to get into some of the areas that Tesco has."
Instead, Price is setting his sights beyond the UK with the help of the Duchy Originals brand. Waitrose signed a licensing deal last year with the struggling label founded by the Prince of Wales, and Price believes that with some of Waitrose's marketing nous behind it, the brand can be transformed into a winner.
And don't forget the hospitality market. "We could be a strong player there," Price insists. "It's something we are definitely beginning to explore."
Such boundless excitement about the Next Big Thing adds credence to Price remaining at Waitrose for the long haul. "I'm well rewarded for what I do and I'd be betraying the terrific team I've brought in were I to walk away. What's more, I've given the prince my word that I won't."
THE PRICE LOWDOWN
- Taking a dive
If Mark Price wasn't running Waitrose, might he have become Britain's answer to Jacques Cousteau?
Helping out at the excavation of a Roman site as a 17-year-old ignited his interest in archaeology to such an extent that he opted to study it at Lancaster University. In his final year, he took a diving course with a view to joining a team planning to raise a Roman galleon off the Italian coast.
- Getting a proper job
His dad, however, reminded his son that there was a recession on and that he ought to get a proper job.
John Lewis and Marks & Spencer both offered graduate traineeships. Price jokes that he chose the former because it had two golf courses (he once fancied himself as a pro) and five yachts for the use of staff.
- Rewriting the rulebook
After senior management jobs at John Lewis stores in High Wycombe and Cheadle, Price became the first marketing director of Waitrose in 1998.
The John Lewis constitution had to be rewritten in order for the job to be created for him. The company's founders had decreed that advertising was a waste of money and that word of mouth was far more effective.
- Back to the top
He returned to John Lewis before becoming the Waitrose managing director three years ago.