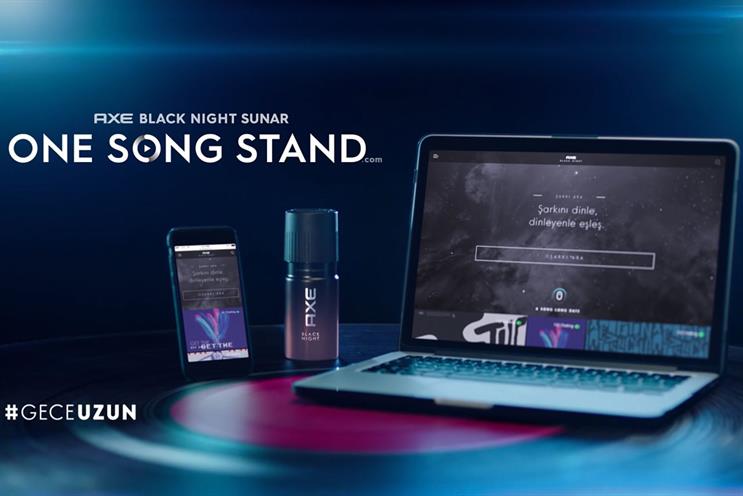 The agency has a long-standing relationship with the company, having worked on brands including Axe,
Algida, Rexona, Clear and Elidor.
Recently, the team developed the "One song stand" campaign for Axe, inspired by the idea that music brings people together.
It's based on the concept of a dating service that allows people to find a "match" according to their musical taste. The name refers to the fact that users can communicate with each other only while a song plays. If they want to continue chatting, they must add further songs.
The campaign, run in collaboration with Spotify, has been submitted for a Cannes Lions award this year.
For Unilever, personal care marketing director Handem Çelenkler, and from Manajans/JWT, creative director Sami Basut, told Campaign how "One song stand" started and developed. The duo also shared their thoughts about the secret behind their long-standing client-agency partnership.
---
Handem Çelenkler
Marketing director, personal care, Turkey, Unilever
Managing the relationship between agencies and the brand teams, there are some non-negotiables for us. The brand custodianship always belongs to the brand teams, thus a good brief, precisely identifying the need/problem/opportunity for the brand and business, is a must-have. Instead of focusing on "do nots", we try to leave the agency as free as possible to get the best out of its talent.
Based on our experience with JWT, this works well. Its team internalises our need, working as a brand-team member, and comes up with distinctive and on-brand creative ideas in its debriefs. Due to Axe's edgy "brand DNA", the task was a bit easier. Driving its fame and "coolness" among the target audience through innovative local activities was the brief. "One song stand" was the outcome.
---
Sami Basut
Creative director, Manajans/JWT
There is a rare connection when an agency and a client click, and push each other to get the best work.
For a creative, the Axe brand is both a gift and a curse. You have a perfect creative territory to play in, but also have to outdo the amazing ideas that have already been implemented.
This year we were talking about how the dating game had changed. With apps like Tinder, one misses the pick-up lines; the songs shared; the music getting us together. So we worked with Spotify to create a dating-mating game. "One song stand" randomly hooks you up with someone listening to the same song. As the song comes to an end, so does your chance for a real date by getting their number.
It takes a magical client-agency relationship to explore uncharted seas. We're pioneering together.