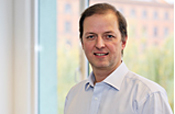 Baker had been with CBS for 12 years and previously worked as the European marketing director and UK marketing director.

Clive Punter, the chief executive of CBS, said: "In common with all media companies, CBS Outdoor continues to look at all aspects of its resource in the current challenging economic environment, and has come to this decision with great regret.

"Over the past 12 years, Mike has made a significant contribution both to the commercial success of the company and also to its culture and morale."

Baker started his career at Thames TV and also worked at The Sunday Correspondent and IPC Magazines.

The move follows redundancies across CBS's sales and marketing department made in September last year.