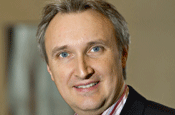 Cilla Snowball, chairman of Proximity and the AMV group, said: "Mike brings gravitas, experience and a track record of delivering great digital and creative offerings to clients. Mike is someone we have admired from afar for years and we are thrilled he is now part of our team."
Paul O'Donnell, chairman, EAME of OgilvyOne Worldwide, added: "We are sorry to see Mike go, he has made a huge contribution to this agency, and we wish him all the best in his new endeavour.

"Meanwhile, it is very much 'business as usual' here for both our clients and our staff. Our talented and long-serving senior management, led by Annette King and Sam Williams-Thomas, will ensure that the agency will continue to run as smoothly as ever."

An announcement concerning OgilvyOne's new management structure will be made shortly.

Dodds replaces Amanda Phillips, who resigned as Proximity chief executive earlier this week.

Her departure came four weeks after BBDO announced plans to merge Proximity with Craik Jones.