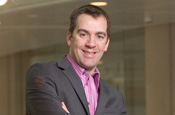 Previously a marketer at Barclaycard, he has also held positions at British Airways and Scottish & Newcastle. Hoban joined Scottish Widows in August 2005, and has overseen the brand's tier-one domestic sponsorship of the London 2012 Olympics.
Hoban, who has been based in Edinburgh, said: 'I was taken into the role as the brand needed rescuing and was in decline, but it was always my intention to take the job as a three-year project, and now I have made the decision to return to London.'
Scottish Widows confirmed he had left the company last week and it was looking for a replacement.
Andy Briggs, the company's managing director of marketing and distribution, will oversee Hoban's responsibilities until the vacancy is filled. Hoban has not yet secured a new role.