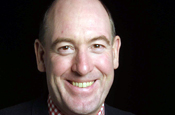 Lazarus, who has led the network for 11 years, will become the group's chairman. Both appointments become effective on January 1 2009.

For the past 13 years, Young has run Ogilvy in Asia Pacific. Before that, he worked in Europe for 12 years, as head of Ogilvy's direct operation and later as chairman of the group.

Sir Martin Sorrell, the chief executive of WPP, said, "Shelly has done a fantastic job as brand guardian of Ogilvy, building a first-class client roster and has taken Ogilvy from a strong position, both geographically and functionally, to a superb position.

"She'll be an extremely difficult act to follow. Miles brings to the role of CEO a deep understanding, not only of European and Asian markets, but also of the role that new technologies - and integrated thinking - bring to our business."

Lazarus added: "I love Miles Young. I have worked in partnership with him for years. He has a simple mandate... to do for Ogilvy Worldwide what he has managed to do so brilliantly for Ogilvy Asia. "

For the full story, see tomorrow's Campaign.