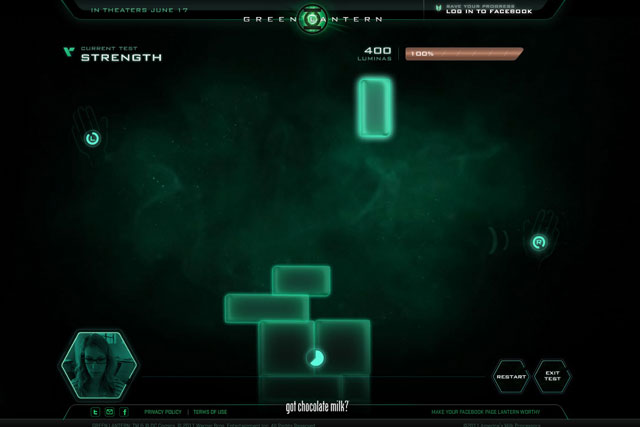 The game, created by Lowe + Partners agency Deutsch, asks users to prove they have what it takes to join the ranks of the Green Lantern, an intergalactic squadron tasked with maintaining peace in the universe.
The keyboard or webcam operated game, made by Deutsch with the production company Unit 9, tests users' strength, focus and agility through classic computer game style tests in the style of Tetris and Pong.
The game uses a vial of chocolate milk to measure the life a user has left and instructs users to refuel using chocolate milk after strenuous workouts as it contains protein, carbs, electrolytes and fluids.
At Deutsch NT the associate creative director and copywriter was Judd Counsell, the interactive art director was Roxy Feldman and the animation was by Benz Vongatanee and Edmund Fung at Unit 9.
The designers were Josh Smith and Edmund Fung, also at Unit 9, the composer was Steven Nolan and audio post production was by Sonic Union in New York.
A spokesman for Lowe + Partners said the game is a "fun, interactive and social way to inform people about the benefits of drinking chocolate milk – via a sure-to-be blockbuster film".
The game will be accompanied by a Facebook app, developed by PR agency WeberShandwick, which will allow people to change their profile picture into a Green Lantern.