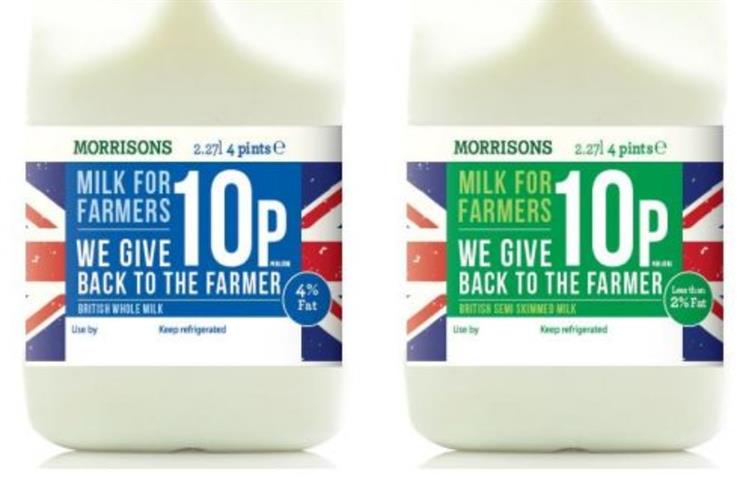 When it comes to buying a pint of milk, most consumers probably care more about price and convenience than the profit of dairy farmers.
But against the backdrop of protesting farmers it is hard to ignore the feeling that paying them so little for what they produce is unfair. The National Farmers Union has done an excellent job of catapulting it onto the national news agenda.
Shouldn't consumers be able to trust supermarkets to do the 'right thing' in the first place?
It is often said that the way supermarkets treat suppliers is exploitative. The same is argued of major players in most industries, because they can set the terms in the knowledge that suppliers need supermarket scale to shift volume.
But whether deserved or not, the concept of corporate greed in our cash-strapped society can do no favours for brands that do not address it.
Morrisons and Asda have both taken a stand on milk prices this week. Asda will increase what is pays farmers to 28p per litre and Morrisons will launch a new brand, made from the same milk, which costs 10p extra per litre for consumers to buy. It will also launch a new cheese.
The latter has been attacked as an inadequate "token gesture" that palms off responsibility onto customers.
The Milk For Farmers brand from Morrisons is interesting but from a brand reputation point of view, shouldn't consumers be able to trust supermarkets to do the 'right thing' in the first place?
Should they really be dragged into supplier politics? Or perhaps it's time, as the move seems to suggest, people take more responsibility for what they consume.
If anything, the brand will provide a real-time case study on whether or not people really care about the issue to the extent that they will cough up the extra pennies.
Many happily pay more for free range eggs and meat in support of animal rights. Let's see if they'll do the same for farmers.