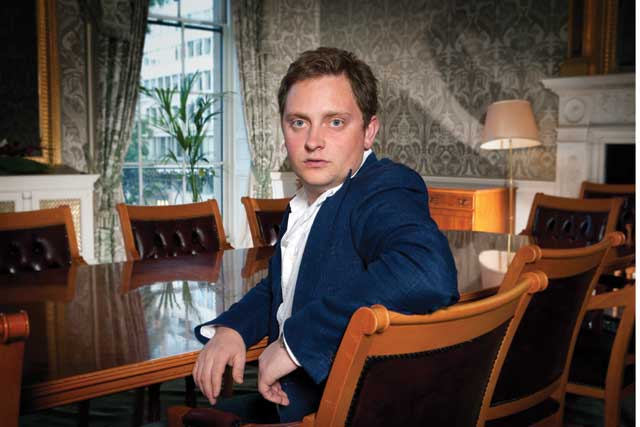 Aurasma is exactly the sort of futuristic company you'd expect to find lurking in one of those drab slabs of brutalist architecture somewhere within spitting distance of Old Street Tube. So when we're told its address before this interview, we quite naturally assume we're about to become the butt of a rather cruel practical joke.
But no. Here it is, as promised, at numbers 20 and 21 St James's Square. As you can imagine, these are not exactly the shabbiest offices in London's West End. For instance, number 20, one of Robert Adam's more distinguished "smaller" works, features an elegantly appointed hall and staircase lined with murals in the Italian Mannerist and French landscape styles. It was the house in which the late Queen Mother grew up. (One of them, at any rate.)
The long and the short of it is that this is not your average hi-tech company. Most leading-edge outfits, especially those with much to prove, are, for better or worse, terribly neurotic. Aurasma just seems very comfortable in its own skin.
It's an augmented-reality specialist - and (though it also works with partners in a whole range of sectors - for instance, education) it has been building some impressive momentum in the media and advertising sectors.
And if Matt Mills, its head of partnerships and innovation, has anything to do with it, you're going to hear an awful lot more about the company over the coming months. "When we started out in April 2011, we thought initially that only a few people would be interested. It has moved a lot quicker than we expected," he confesses.
Aurasma has been generating headlines, not just for some of the groundbreaking initiatives it has instigated, but also for an agreement it signed in mid-September with Telefonica, the owner of the O2 brand. Hailed as the biggest- ever deal between a telecoms operator and an augmented-reality company, it will see Telefonica pushing the technology in 25 markets around the globe.
Other Aurasma deals are now in the offing, not just with mobile platform operators but with handset manufacturers too. The ultimate goal is that, when you take your new phone out of its box, a preloaded Aurasma icon will be there on screen, tempting you to activate the app. (Not Apple products, though - Apple doesn't "do" co-operation. Aurasma's app is available via the App Store, though, clearly.)
So, coverage in the business pages has been nice - but, perhaps even more importantly, people in the media and advertising world have begun raving about the product itself. To see why, mere words won't do, of course. You really do have to see Mills' presentation. Forget the gimcrack augmented reality that used GPS and compass-bearing data to overlay tags on whatever you were pointing your iPhone at in city locations. This is loads better.
It's basically a smartphone and tablet app. Once you've got it, you can point your device at any image that has been pre-coded and you'll see bonus content on your screen. At the simplest end, an advertiser or media owner can let you see stuff overlaid on print copy in a magazine or newspaper or on a poster.
Products on the page can be given price tags and, crucially, instant click-through routes to e-commerce. Or you can use it as a portal to a whole new dimension, with video content or 3D graphics. In one recent high-profile initiative, for Universal Music on behalf of The Rolling Stones, Aurasma fixed it for more than 2,000 landmark buildings around the world to become gorilla-ridden augmented-reality canvases. (The cover artwork of the band's latest compilation album features a rubber-lipped ape with its tongue out.)
And another recent coup saw it partnering with Conde Nast's GQ in the US to produce the world's first cover-to-cover augmented-reality magazine - 212 pages including 120 pages of advertising.
On some projects, Aurasma has tended to act as a silent partner (a technical facilitator or, as Mills puts it, the equivalent of an "Intel inside"); and, indeed, there are 430 partner apps out there with Aurasma functionality embedded. But it's now claiming its rightful place in the limelight. "People are increasingly downloading the Aurasma app directly," Mills says.
Currently, four million people have an activated Aurasma app. They're spread across 100 countries with 25 per cent in the UK, with the US, Japan and the Netherlands following close behind.
The brand is clearly on a roll. And, yes, it's true that the dogmatic "print is dead" brigade (and they are legion in digital advertising) tend to be somewhat sniffy. They say that what Aurasma does is "no more than" spice up the "dead tree" media world - and, they argue, the digital domain pure and simple is where the real game will be played out over the longer term.
Well, perhaps. But a lot of digital-only creative work is, almost by its very nature, emotionally disconnected and solipsistic. There's something magical about the way that Aurasma brings relatively simple ideas and executions alive.
It bridges an imaginative gap between the onand offline worlds. Doubtless that's why some people in media and advertising swoon when they see Mills' presentation.
As he himself puts it: "The thing about Aurasma for advertisers is not just the fact that it makes it easier to buy the product - it's also about the beautiful emotional things we can do with this."
THE LOWDOWN
Age: 26
Lives: Barnes, London
Favourite tech brands: Bang & Olufsen, Miele and Apple. They take something we do every day and make it better
Hobbies: Sailing, skiing, bikes, photography
Alternative career: Teaching
Wish I invented: The iPhone
Favourite bands: Right now, Alex Clare, The Heavy, and Edward Sharpe and the Magnetic Zeros
Work/life philosophy: Waking up in the morning thinking you can change the world and working with people who think the same - that's just perfection