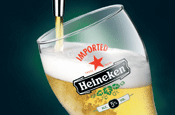 The move follows Heineken's recent acquisition of UK brewer Scottish & Newcastle.

MediaVest, a division of Starcom MediaVest Group, has handled the media planning and buying for S&N since 1995.

MindShare continues to handle Heineken's global media planning and buying account.

Scottish & Newcastle will integrate the Heineken and Amstel brands into its UK portfolio, which includes John Smith's, Newcastle Brown Ale, Strongbow and Foster's.

MediaVest will handle the enlarged S&N brand portfolio, worth £25 million, from January 1 2009.

Heineken UK marketing director, Iain Newell, said: "The decision is no reflection on the work that Mindshare have produced since winning the account in 2002.

"We would like to place on record our sincere thanks for the significant contribution the agency has made to the successful delivery of our marketing plans for Heineken and Amstel in the UK over the last six years."

Steve Parker, managing director of MediaVest, said: We are proud of our relationship with S&N and the thinking and the results it has delivered.

"The news is testament to the skill of a dedicated cross-functional team, who are looking to the new challenge Heineken will present.