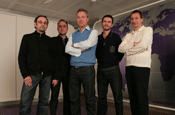 The move sees the end of the M&B brand, and the agency founders, George Michaelides and Graham Bednash, will now head Invention across Mindshare's global network. No money is believed to have changed hands in the deal.

Along with Paul O'Neill, a managing partner at M&B, they will lead the development of the unit, which is responsible for creative output across digital content, programming, sponsorship and planning at the WPP-owned Mindshare.

They will aim to promote the M&B approach and philosophy across the group and will work alongside Mindshare's global digital leaders, Norm Johnston and Simon Andrews, the worldwide sponsorship head, Sean Jefferson and the regional content chiefs, David Lang and Simon Willis.
All eight M&B staff will transfer to Invention.

Discussions with M&B were led by Nick Emery, Mindshare's chief strategy officer, and Marco Rimini, the head of business planning.

Emery said: "To be the best in the world, Invention needs the best thinking and ideas. That's why George, Graham and Paul and the team are key to Invention's future. We're thrilled they're joining us."

M&B was founded in 1995. Its clients included Unilever, Pepsi, Penguin Books, GlaxoSmithKline and Channel 4.

Mindshare restructured its global operation in April, taking the network from more than a dozen specialist units to four: client leadership; business planning; Invention and The Exchange, Mindshare's new trading arm.