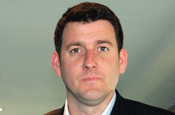 The WPP-owned media agency is currently interviewing creative candidates for the fledgling business, which has yet to be named. The digital creative arm will launch in London and will operate within the network's digital media division, MindShare Interaction.

It will offer creative and content services, but may contract out production as required.

Norm Johnston, the chief executive EMEA for MindShare Interaction, and Simon Andrews, the global digital chief strategy officer at MindShare, are understood to be leading the venture. Both Andrews and Johnston have worked at digital creative agencies.

Andrews was a partner at Delaney Lund Knox Warren & Partners, where he built its capabilities in digital, direct and integrated marketing, and was the first chairman of DLKW Dialogue. Johnston was the president of Digitas London before joining MindShare last year.

The move is one of the first of its type by a media agency. In 2003, Booth Lockett Makin opened a creative arm, BLM Flint, in order to handle creative duties for its clients. The agency closed in May last year.

BLM said at the time that Flint was not failing to make a profit, but that BLM had "outgrown the concept".