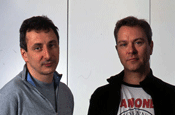 The WPP-owned agency intends to integrate all of its services into four new global groups, including a creative "hub" that will develop content for clients.

The restructure merges 12 agency units into four: a client leadership group; a business planning group; a content creation unit called Invention; and The Exchange, a group created to handle on- and offline trading.

The principal architects are MindShare's chief strategy officer, Nick Emery, and Marco Rimini, the head of communications planning.

The move is designed to bring together experts from different disciplines and integrate content creation into more traditional media agency services.

Senior agency executives, including Emery and Rimini, will be given as-yet-undecided new job titles, reflecting what they do rather than the level at which they work.

The new model will be introduced into MindShare's 97 offices worldwide immediately, and the restructure is expected to be completed by the end of the year.

Dominic Proctor, MindShare's chief executive officer, said: "We are reinventing our form, our thinking and our process, underpinning all that we do with digital expertise, to be our clients' lead business partner in meeting the challenges this new landscape creates for them."

Emery added: "There is a significant need right now among clients for agency leadership. They want agencies to take the lead in learning about and applying digital marketing, from retail to creating new revenue streams."