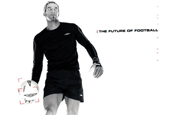 Mindshare already handles media for Nike, which bought the England football kit maker in a £285 million takeover in October 2007. At the time, Nike said it planned to run Umbro as an independent affiliate.

Umbro is currently planning a marketing campaign for the soon-to-be revealed new-look England home football shirt. The campaign will stress that the jersey is a high-end £50 product, as opposed to the £10 version available in discount retailers.

The kit supplier plans to launch England's new shirt at the team's friendly against Slovakia at Wembley on March 28. Umbro has legal agreements in place that its logo, rather than the Nike swoosh, will continue to appear on the England jersey.

Nike acquired Umbro as part of its bid to become the world's leading football brand by the 2010 World Cup.

Mindshare picked up the centralised European media business for Nike in October 2000, beating Zenith Media, OMD/Manning Gottlieb Media and UK incumbent MGM to the account.