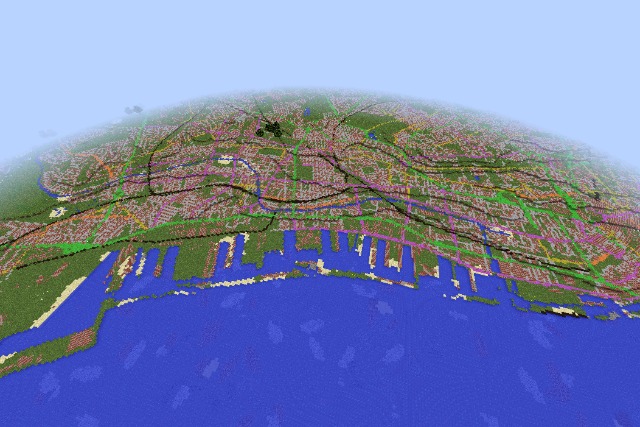 OS has revamped its UK map, which is constructed from 82bn Minecraft blocks and now features more detail such as buildings, railway lines and trees.
Each block represents 25m of British land, water or road, and the map is so detailed that gamers will be able to locate their own roads and houses.
OS released the first version of its UK Minecraft map last year, built by then intern Joseph Braybrook. The map saw more than 200,000 downloads over the last year, and inspired the Danish government to build its own.
Minecraft is played by 33m gamers worldwide, many of them children, and its popularity has boosted the OS brand to a new demographic. Other brands should take note, according to OS head of communications Robert Andrews.
"This has really opened up the Ordnance Survey brand to a whole new audience, the younger generation, the gaming generation," he told Marketing. "People know us for paper maps that you use walking on the hills and valleys."
He added: "We were seeing [our Minecraft map] being used in the classroom and featured on various blogs and forums. The map is being used by the younger generation and some of the coverage refers to us as cool and innovative - which are relatively new words for us."
With Minecraft largely played by children and used in an educational setting, marketers have steered clear of overt brand activity. Those that have dipped their toe, however, have generally been well-received. GE recreated its iconic Edison Memorial Tower in Minecraft with Barbarian Group, to generally positive reviews.
And the British Museum this week called for volunteers on Reddit to help build a complete replica of its interior in Minecraft, including the exhibits.
The British Geology Survey also added a geological layer to the OS Minecraft map.
"It is showing how other organisations can get involved," said Andrews. "There is huge potential internationally, you could eventually see a Lakeside or Bluewater in Minecraft."
But marketers have warned that brands will have difficulty finding a "clean" way into Minecraft.
DigitasLBi's chief technology officer, Scott Ross, said: "Opportunities will exist for brands to join the world of Minecraft, but they must be careful to approach such activities in a participatory way, and must be willing to relinquish some level of control on how they are integrated into these imaginary worlds."
Scott said Minecraft was not a "display medium" and warned thoughtless brand involvement could turn the game into the next Second Life.
"Brands with well-known, thematic properties are natural fits for this type of marketing collaboration," he added. "They give greater access to content, and simplify the sometimes tedious parts of world-building, and let users focus on the fun part - making their idea a reality"
And Starcom MediaVest senior vice president Jeff Pray told the Wall Street Journal there was "no way in", at least when it comes to direct advertising.
Gamers will be particularly sensitive to any commercial activity on Minecraft after the developer, Mojang, was bought by Microsoft for $2.5bn. Discussing rumours of the deal on Reddit earlier this month, users expressed fears that Microsoft would turn Minecraft into a money-maker.
"Other brands, if they are looking at engagement with this audience, will need to think of the end user and not sometimes the commercial goals," noted OS' Andrews.