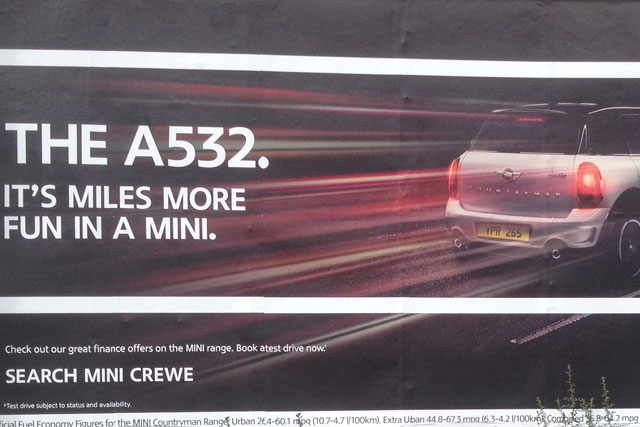 The ad, which was displayed on a 96-sheet billboard on the A352, depicted blurred red and white lines trailing behind a Mini, along with the copy, "THE A532. It's miles more fun in a MINI".
A complainant to the ASA challenged whether the ad, created by Iris Worldwide, was irresponsible and harmful because it depicted and encouraged dangerous driving.
The ASA found that the large number of different coloured lines gave the impression of a fast-moving vehicle. It also ruled that the wide format of the poster exaggerated the impression of speed.
In its response, Mini's parent group BMW UK said the poster's extreme wide format and the red-and-white lines referred to the long distances people could travel in the car and not to speedy or unsafe driving.
BMW also argued that the word "fun" referred to Mini's brand values and how it felt to drive a Mini.
Although the ASA considered that on its own, the word "fun" was unlikely to encourage irresponsible driving, alongside the impression of a fast-moving vehicle, the advertising watchdog found it would give the impression of "excessive speed".
The ASA decided the ad must not appear again in its current form and warned BMW not to make a feature of speed in any future campaigns.