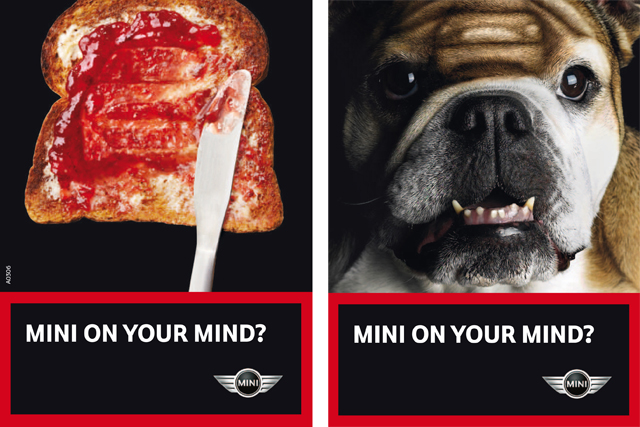 The campaign, created by Lida, will run across online, mobile and magazine inserts from today (21 February).
The ads target prospective buyers and are based on the phenomenon that a person's subconscious often influences what they will see. The ads feature an outline of a Mini appearing in the most unlikely places, such as in jam on a piece of toast, or in the wrinkles on a bulldog's head.
The dedicated landing page features a Mini shape appearing in a constellation in the sky, while online ads produce the pattern on the side of a fish in a tank and uses the strapline "mini on your mind?".
People are encouraged to sign up and opt-in for sneak previews and exclusive competitions. It encourages prospective buyers to inform the brand when they're likely to be in the market for a new car.
Anna Kilmurray, Mini advertising and prospecting manager, said: "The Mini brand is packed with personality, and the new work plays on the public's affection for the cheeky car.
"Each execution acts as a trigger for an expression of interest from potential customers. The playful tone of the new Lida campaign is uniquely Mini."
Nicky Bullard, Lida joint creative director, said: "The new Mini campaign is fun, unexpected and pretty brave – this is a prospecting campaign that doesn't actually show the product. That is, unless you look closely."
John Fazio from Lida is the ads' copywriter and the art director is Chris Whitehead.