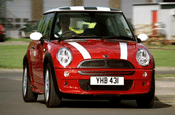 Rocket won the account in 2005 as part of a wider £25 million BMW media review. However, since the win, Mini has significantly scaled back its spend on the brand.

BMW's other media agency arrangements are unaffected by the move.

Rocket's sister agency, PHD, continues to handle media planning for BMW, while Vizeum handles buying for both BMW and Mini.

Mark Girling, the managing director of Rocket, said: "We have fulfilled a top-end strategic planning role, but it seems that Mini's needs have changed. Projects are no longer as frequent."

Mini recently consolidated its digital creative business into Profero, ending a two-year relationship with glue London.

WCRS continues to handle advertising for both BMW and Mini.