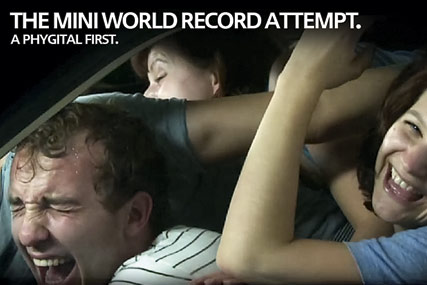 The automotive company's headquarters in Germany has contacted UK agencies directly to invite them to compete for the business.
Profero currently holds Mini's digital advertising account in the UK, while Lida, which handles direct marketing activity for Mini, has also created some digital work for the brand.
Prominent recent work from Profero includes last year's "world record" campaign to promote the launch of the Mini Countryman. The campaign encouraged members of the public to help break the world record for the number of people "virtually" squeezed into a Mini.
The agency installed a life-size replica of the Countryman in shopping centres and train terminals across the UK. Consumers were asked to create video footage of themselves in video capture booths, which was then projected on to the car.
Mini's decision to review follows the consolidation of its digital ad account into Profero three years ago, bringing an end to its previous relationship with Glue Isobar.
In January this year, Mini retained Lida to its eCRM and direct marketing account after a pitch against Partners Andrews Aldridge and Rapp.
Last year, BMW held a UK advertising and direct marketing review for its main brand. Engine Group was appointed to the business, with WCRS&Co retaining the advertising account.