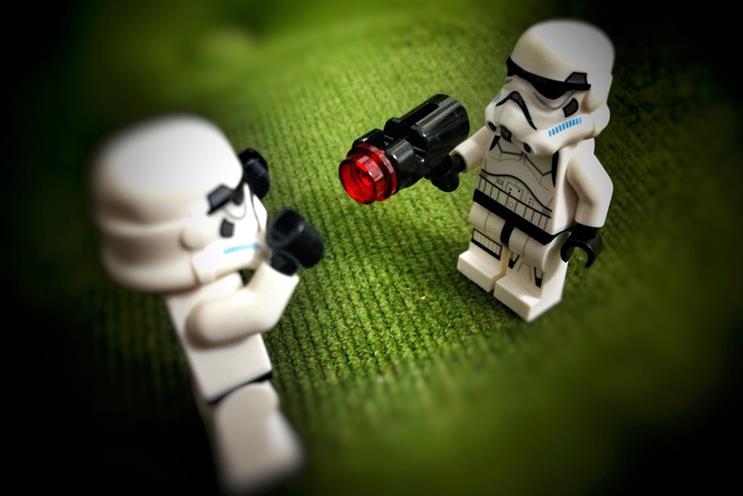 Research by Children's Food Campaign (CFC) found that high sugar foods made up the majority of food licensing deals for Minions, Frozen and Star Wars: The Force Awakens.
CFC co-ordinator Malcolm Clark said the array of high sugar licensed foods on sale meant that "self-regulation has had its day," and that government action was necessary to crack down on the practice.
Clark singled out Disney - which owns Star Wars and Frozen - claiming that it had failed to deliver on a pledge made in 2006 that 85% of food products using its branding globally would be low in fat and sugar.
Disney hit back at this, saying that it had achieved a figure of 71% by 2014 and was on track to hit its target by 2020.
The media giant was unable to say what the proportion was in the UK, but did point to steps it has taken to promote healthy lifestyles such as a partnership with Public Health England on the Change4Life 10-Minute Shake Up campaign, which uses Disney characters to encourage kids to be more active.
Deals with Chupa Chups and Fox's biscuits
CFC described Minions, owned by Universal, as "the worst offender", finding six separate licensed products described as high in sugar - meaning above 22.5g of sugar per 100g. The brands involved are Haribo, Tic Tac, Symington's cupcakes, Bonbon Buddies, Kinder Surprise and Honey Monster cereal. All but the last two are still on sale.
Following the release of The Force Awakens, the seventh film in the series, Star Wars made its way onto packs of Chupa Chups, Fox's biscuit bars, a Kellogg's cereal, Fiddes Payne sprinkles cake decorations and a Lightbody celebration cake, according to CFC.
Frozen, which was released in 2013, has active deals with Fox's biscuits, Memory Lane (cupcakes), Lightbody (celebration cake), Kinnerton (chocolate egg) and Fiddes Payne (cupcake kit).
The huge success of these movies means they have significant potential as licensed properties.
The Force Awakens is the highest-grossing film of all time in the UK, with takings of $178m. Minions and Frozen were major hits too, bringing in $73m and $65m respectively.
Pester power
Film and character licensing has become a £250m vehicle for encouraging excessive sugar consumption in children
"It is hard to resist the pester power when your child is swept up in the latest animation or superhero film craze," said Clark. "Voluntary pledges by film studios and manufacturers seem to be having limited effect in stemming the waves of sugary products using their connection with such movies to appeal to children.
"Film and character licensing has become a £250m vehicle for encouraging excessive sugar consumption in children, and that needs to stop," he said.
"The Committee on Advertising Practice's imminent consultation on non-broadcast marketing of food and drink to children should be the starting point for changing the rules.
"But ultimately it comes down to the government following up its announcement of a sugary drinks tax by introducing similarly brave and bold measures on tackling junk food marketing."
CFC added that the use of licensed characters had the potential to positively influence children's behaviour - citing a report in US journal Obesity Review that found that "cartoon media character branding can positively increase children's fruit or vegetable intake compared with no character branding."