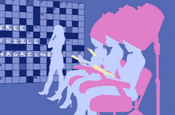 The publisher is working with the AAR to draw up a shortlist of agencies. M&C Saatchi will not repitch.
Richard Webb, the managing director of Mirror Group, said: "Our business focus has changed recently, and so have our agency requirements."
The Mirror Group has cut above-the-line ad support for its newspapers over the past five years. Six years ago, when M&C Saatchi successfully repitched for the account, it spent £15 million on advertising for its titles, which include the Daily Mirror, Sunday Mirror and The People.
The chairman of M&C Saatchi, Moray MacLennan, said: "We've enjoyed working with the Mirror Group, and wish them well for the future."
The group's media planning and buying account, which is handled by ZenithOptimedia, is unaffected by the review.
Sales of the Mirror Group-owned titles slipped in the December ABCs, with the Daily Mirror's circulation down 3 per cent year on year to 1,494,114, the Sunday Mirror's slipping 0.57 per cent to 1,315,188 and The People's falling 12 per cent to 674,781.