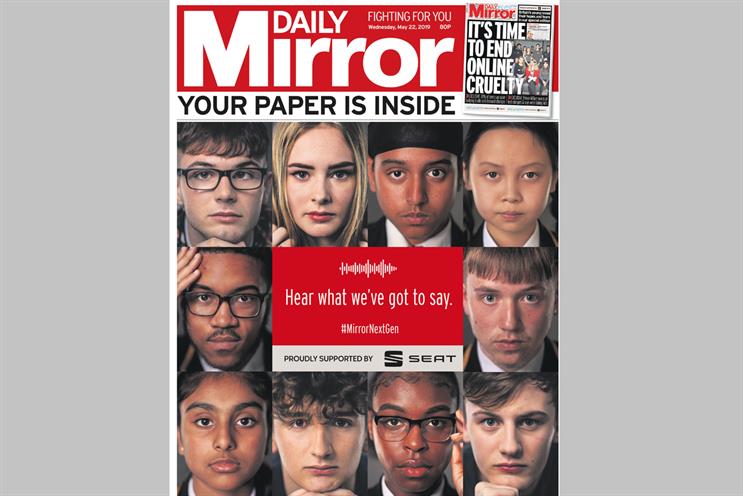 The Daily Mirror has today handed control of its newspaper, website and social channels to a group of teenagers from across the UK for a special "next gen" edition, in partnership with Seat UK.
The teens will handle every element of the newspaper, from the front page and masthead design to the editorial lead column. The edition will feature interviews with the likes of Jeremy Corbyn, Prince William, education minister Damian Hinds and Love Island's Megan Barton-Hanson – all chosen by the teenage team.
Alison Phillips, editor of the Mirror, said: "The Mirror has a long history of giving a voice to those who may otherwise go unheard. So often nowadays, teenagers are dismissed as not doing much beyond staring at their phones or their trainers.
"They've been derided as 'the snowflake generation'. So we asked them to tell us what are the issues they really care about. For one day, we have handed over the keys – or keyboards – of the Mirror to let them run our news and features coverage in print and online."
The edition also includes results of new research carried out by the Mirror of 1,050 people in the UK, including 286 teens aged 16 to 19. It found that teens are not only highly engaged in politics and current affairs, but more influential than they are often given credit for.
More than half (55%) of parents of teens said they had reconsidered their views on news, politics or current affairs stories after talking with their children, while 46% were persuaded by their children to make lifestyle changes.
A huge 62%, meanwhile, said they had been persuaded to try a new brand or product by their teenagers and 39% had been persuaded to boycott a brand.
Teens were found to be 30% more likely to have signed a petition than the general population and are 35% more likely to have boycotted a product that clashed with their values. They are almost twice as likely (80% more) to have got involved in working with others to solve a problem affecting their school, city or neighbourhood.
Andy McGregor, head of marketing at Seat UK, said: "We're committed to supporting key issues in society which are pivotal to our brand's philosophy. We want to help inspire a generation of forward thinkers to question the old ways of doing things, because we believe that innovation and progress should not be something that the chosen few get to decide.
"Through this, we can take part in helping to stimulate wider conversations that are happening right now, using our platform to assist those without one and helping people to move forward."