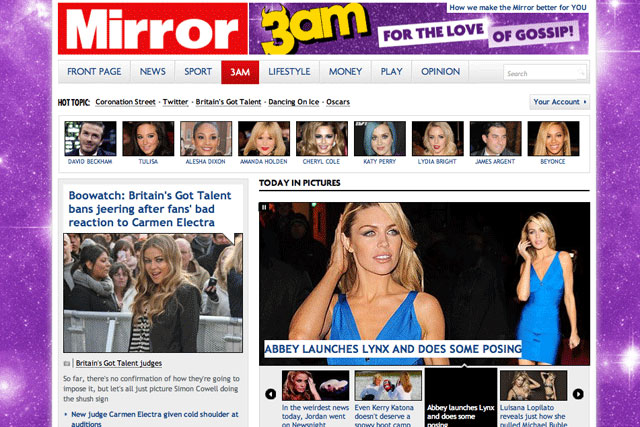 The changes mark the site's biggest revamp in five years and have been spearheaded by Chris Ellis, Trinity Mirror managing director, digital nationals division, and Matt Kelly, publisher Mirror Group digital.
Mirror Online is a relative minnow compared to marketing leaders Mail Online and Guardian.co.uk, according to Audit Bureau of Circulations (ABC) figures.
As a comparison, in December 2011, Mirror Online reported 726,653 daily average users, compared to Mail Online's 4,838,140 daily average users. However, Mirror Online is growing, according to the ABC.
Mirror Group Digital said the redesign made the website look cleaner, less cluttered, bolder, and offered users easier navigation.
Central to the overhaul is the Mirror's group of star writers, such as sports columnists Oli Holt and retired boxer Barry McGuigan, playing a more central role in writing for the website, including writing bespoke editorial for MirrorOnline.
Other changes include greater use of photography and a more prominent display of the weather forecast and the crossword on the website.
One key change, said Ellis, was closer integration with Facebook and using new technologies from digital start-ups.
He said: "Forging closer integration with leading digital media players, like Facebook, and employing new technologies from digital start-ups, like Rummble Labs, are absolutely to our plans going forward."
In January, Mirror signed a deal with Rummble Labs, to integrate its technology across Mirror Online, 3am and Mirror Football.
Facebook, Ellis said, was fundamental to the new-look site. Users can now post comments on the Mirror website using their Facebook profiles.
One reason for the overhaul of the website is the desire lure in longer dwell time on the website and to attract more advertising from travel and personal finance brands.
New advertising features on the site include carousel and bellyband ad format.
The site launched today (8 February), but teething problems, such as the launch of some websites, meant that it was forced to be taken down.
A source close to Mirror Digital said it was likely to be up and running by tomorrow.
Follow John Reynolds on Twitter @johnreynolds10