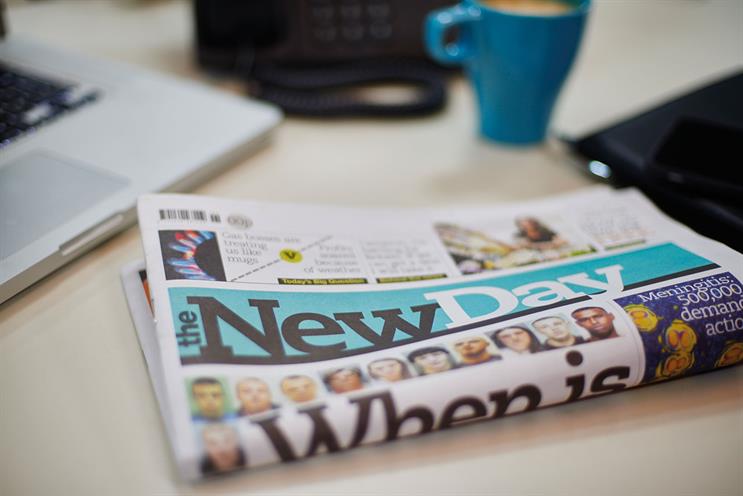 Among the red-tops and the traditional fonts of broadsheets, a new entrant with a turquoise masthead is hitting newsstands on 29 February.
Trinity Mirror's modern-looking The New Day delves into the latest news topics and is essentially aimed at people who have been picking up their smartphones for their daily news fix.
In what Trinity Mirror calls "the first standalone national daily newspaper for 30 years", The New Day is by no means a lighter version of the Daily Mirror. It's trying to chime with an audience that isn't getting what it wants from the current offerings.
"I don't buy that print is dying," Alison Phillips, the editor of The New Day and former weekend editor at the Daily Mirror, tells Campaign. "There seems to be a level of dissatisfaction about what is available."
Trinity Mirror believes there are about one million people who have stopped buying newspapers over the past two years and argues that they would pick one up if there was an option that met their needs.
Phillips says The New Day is for an audience that print has not kept up with – people who are now viewing headlines on their social media feeds. Trinity Mirror research has shown that the digital age needs a newspaper that focuses on in-depth features rather than breaking news, she claims.
Wildman (l) and Phillips: targeting advertisers that would not normally be interested in the Mirror
The new title is certainly a different offering from the publisher that owns the leading Labour-supporting red-top. The New Day won't have any sensational headlines or political bias.
Instead, Phillips talks of "a balanced opinion, a positive stance, a modern look, language in the way people talk, and no trashy celebs". This means no sports pages at the back (they will be in the middle), no leader column, no TV guide and no classified ads.
Interestingly, The New Day won't have a website either. Instead, it will look to gain momentum through Facebook and Twitter.
The paper has a target audience of a majority of women, but also wants to appeal to men. Phillips sees the typical reader as a married, 40-year-old woman, who has just 30 minutes a day to spare during the working week.
By moving away from Trinity Mirror's existing brands, The New Day allows the publisher to reach out to advertisers that would not have been interested in the Daily Mirror.
James Wildman, the chief revenue officer at Trinity Mirror, says the 40-page paper will feature eight ads each day. "It's very helpful to have a mid-market title," he explains. There are also plans to move into native advertising once the title has settled into the market.
But Wildman thinks coverprice revenue is important, as he does not want the new title to be dependent on advertising. The New Day will be free at launch, followed by a trial fortnight at 25p. After that, the full price will be 50p.
He believes the free model, which has been successful for titles such as Metro and ShortList, has a place in the market, but says: "This is about protecting our print business while continuing to drive exponential growth digitally."
Rob Lynam, the head of display at MEC, says it's a "bold move" to launch a newspaper in one of the most "perilous" times in print. He is waiting to see if Trinity Mirror is able to target the readers it wants. After all, when i launched five years ago, it ended up with an older audience than its target.