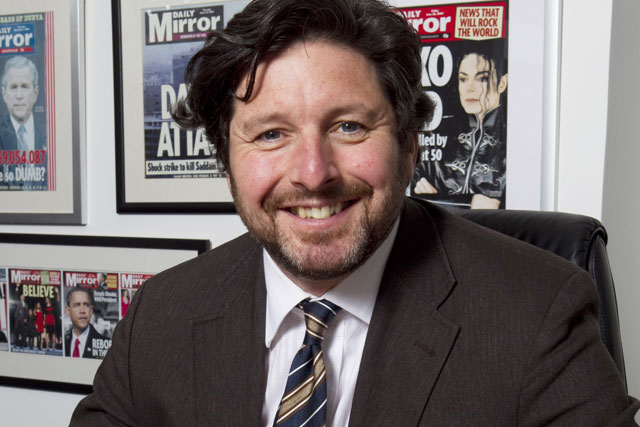 Speaking to Media Week after Parsons absconded from The Mirror after 18 years to become a columnist at News UK's rival The Sun, Embley said the suggestion the paper was "dying" had caused a visceral reaction across the business in One Canada Square.

Parsons, author of multi-million selling novel, Man and Boy, had said: "I left my old newspaper after 18 years and it's not something that I did lightly. I joined The Sun because I wanted my journalism to have a future... As much as I love my old newspaper, I felt it was over. I felt it was dying."

Embley said: "I was a bit sad. If he wanted to criticise me or the management that's absolutely fine – but saying the Mirror's dying that went down so badly across the editorial floor and the commercial floor here.
"We've doubled our online traffic in the last six months, our audience has got bigger and bigger, and there's no doubt our newsbrand is being exposed and read by more people than probably ever before. Tony's column is going to be behind a paywall on Sun+, so obviously that's going to be a tough challenge."
Parsons supports News UK's paywalls
Parsons had added that he supported News UK's decision to put all its content behind hard paywalls across websites for The Sun, The Times and Sunday Times, and has urged other newspapers to follow suit.
"I don't see how I can support my family if the people I work for keep giving away their product for free," said the columnist who was reportedly paid £200,000 pa for his Mirror column, or £4,000 per 1,000 words.
"I kept getting this large sum of money and my colleagues kept getting sacked," he added. "People were losing their jobs so they could keep me there: it just doesn't add up."

Embley said Parsons had been a "great writer for the Mirror" over the years, but questioned whether he held liberal views any longer, adding "politically he says he feels more in tune with The Sun, they're paying his wages now so that's no great surprise that he's saying that".

He added: "I suspect that giving the line that it [Mirror] was dying because we were giving away the content for free, it sounded as if the PR guy at News UK were asking him to do something about Sun+"
A 'confident' new Mirror looks forward
After 19 years with Trinity Mirror, Embley has led editorial operations across the Daily Mirror and Sunday Mirror and their combined online operation for the past 16 months. He has worked closely with chief executive Simon Fox since his arrival last September to restructure and reposition the titles, and says the company has regained its momentum and confidence after years on the backfoot under Sly Bailey's reign.

Talking about the last decade, in which circulation and ad revenues have continued to fall, he said: "The industry has been going through massive change, there's no doubt about it and it's far from an easy job. And when you're a publisher of national and regional newspapers, we've probably felt it more than anyone.

"Historically, I think the Mirror has probably spent too much time looking over its shoulder looking at what its competitors are doing – which in terms of journalism and scale would be the Sun and the Mail – and what we're trying to do is make ourselves more confident, make our staff more confident about the Mirror brand."
Mirror site reports huge lift after Sun+ paywall
Mirror Group Digital enjoyed a huge spike in its online traffic after The Sun erected its first paywall at the start of August, with daily browsers rising nearly 20% in the month. The Trinity Mirror network of websites – which includes Mirror.co.uk, 3am.co.uk and MirrorFootball.co.uk – reported a 19.65% leap in average daily browsers in August to 1,731,520.

Monthly browser numbers were up 15.67% to 34,416,732 last month, according to the latest Audit Bureau of Circulations report released on Thursday.

Trinity Mirror is hoping to build on a refresh of its papers and growth online when it launches its first brand campaign in 10 years for The Daily Mirror this weekend. A TV, outdoor, online and print campaign created by Quiet Storm will promote the paper's core values and columnists, and hopes to position the Mirror as an 'intelligent tabloid'.

Embley said: "The Mirror is unique in terms of the popular press – the only papers who actually sell any copies - in so far as it is the only left of centre newspaper. That could be the working man or that could be the man who happens to have left of centre political beliefs. I think that's what we represent.
"I think 'confidence' is a word I find I'm using on almost a daily basis, and I think that's at the heart of why we've had a good 12 months, we believe in ourselves more. Looking forward, and looking forward with our plan and what we want our paper to be, not looking back worried about what the others are doing.

"We have our clearest plan yet and our greatest optimism about cracking the digital thing."
ABC Multi-platform report: August 2013
August 2013
Monthly % change
Daily ave
Total mthly
Daily ave
Total mthly
MailOnline
9,004,285
137,690,816
2.06
2.57
Metro
552,692
12,702,276
15.02
16.35
theguardian.com
4,519,849
83,519,898
-5.83
-1.56
The Independent
1,295,170
27,628,344
5.69
5.33
Mirror Group Digital
1,731,520
34,416,732
19.65
15.67
The Sun
N/A
N/A
-
-
Telegraph
3,108,353
60,351,846
12.88
11.05
Source: ABC Monthly Multi-platform report
More comments from Lloyd Embley feature in this week's Campaign magazine, out tomorrow.
Follow @DurraniMix