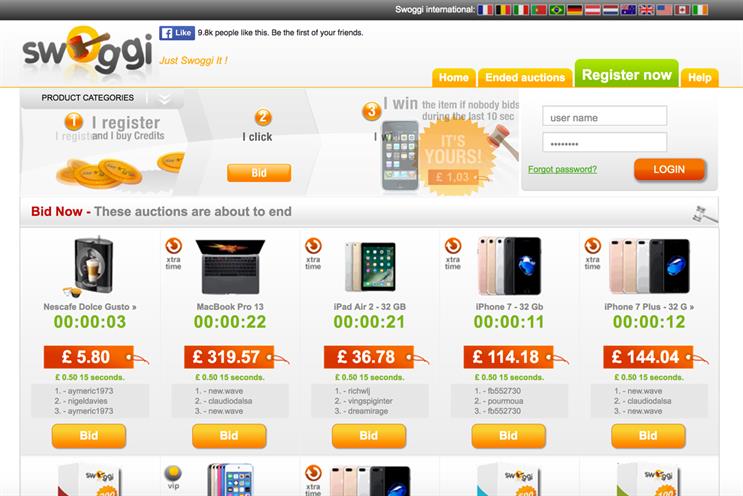 The watchdog today published a series of ruling banning the "misleading" advertising claims by six pay-per-bid auction websites.
Following today's ruling, the ASA said it expects the companies involved to get their websites in order and have provided them with guidance.
Pay-per-bid auction sites such as MadBid and Swoggi, more commonly known as penny auctions, are a type of timed online auction where customers pay each time they bid on an item, usually through pre-bought credits. The investigation also ruled against BidBid.co.uk, Liklebid.com, Fastbidding.co.uk and BidwizEU.com.
The ASA took action after receiving complaints that these sites have been exaggerating savings on items and incorrectly quoting recommended retail prices.
Macandi, the company behind MadBid and sister website Megabargain24.com, was singled out as misleading because they did not make clear how the auction process worked, including the fact that customers could only win an auction a limited number of times in a month.
The ASA also found some savings and RRP claims couldn't be proved, the commercial intent of their ads was not clear, and the expiry times for offers were misleading.
Meanwhile Sophora Media, which owns Swoggi.co.uk and MoneyExpert360.com, could not show that "instead of" or "worth up to" claims for auction items were the prices at which the products were generally sold, the ASA found. Implied endorsements by newspapers such as the Daily Mirror and The Times were also found to be misleading.
Miles Lockwood, director of complaints and investigations at the ASA, said: "It's unfair that consumers have been led to believe they're getting a big discount or bargain when it turns out savings claims were exaggerated and associated costs and terms and conditions haven't been clear.
"Our rulings and guidance put pay-per-bid auction business on notice; they need to get their websites in order so that consumers get a fair deal."