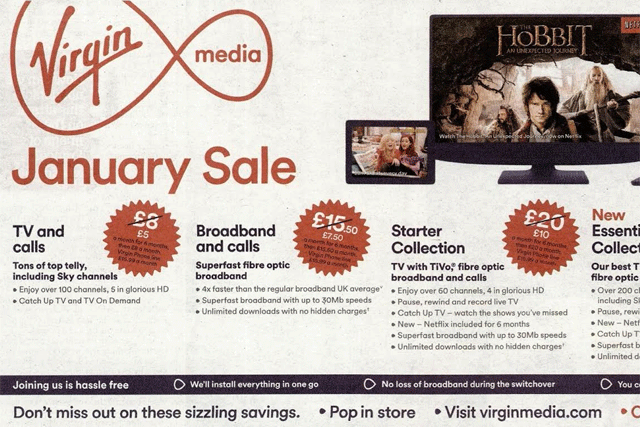 From June 2013 to March 2014, five press ads and a website from Virgin Media promoted the "starter collection", a TV and telecom offer that would run "until at least" a certain date.
BT asked the Advertising Standards Authority to look into the ads on three grounds. It questioned whether the previous higher prices referred to in the ads had been charged in the previous nine months, whether the ads were misleading as previous starter collection offers had been extended, and if the use of "offer available until at least" was misleading as the closing date was not clear.
The ASA upheld BT's first complaint because it had not seen evidence that new customers had paid the higher prices of £18 and £20 a month for Virgin Media's starter collection, which was mentioned in each of the six ads.
As the offers in the press ads encouraged consumers to make a transactional decision within a limited time period but were either followed by offers that were the same or were not the full non-promotional price, the ASA considered they were likely to mislead people.
However, the website offered a "last chance to get six months Netflix" free, which it stated ended on 27 February.
The ASA ruled the offer was time limited and so was not likely to mislead consumers, because the next offer did not include free Netflix.
The ASA also ruled that the use of "available until at least" in the press ads was in breach of the code because the wording was ambiguous and did not make the duration offers of the clear, especially because prominent text suggested it was time limited.
The website was not ruled against on the final point as the ASA considered the text made it clear the promotion ended on 27 February.
None of the ads must appear again in their current form.
The ASA also warned Virgin Media not to mislead consumers about the time limited nature of advertised offers, to ensure that closing dates were made sufficiently clear and make sure savings claims were not likely to mislead.