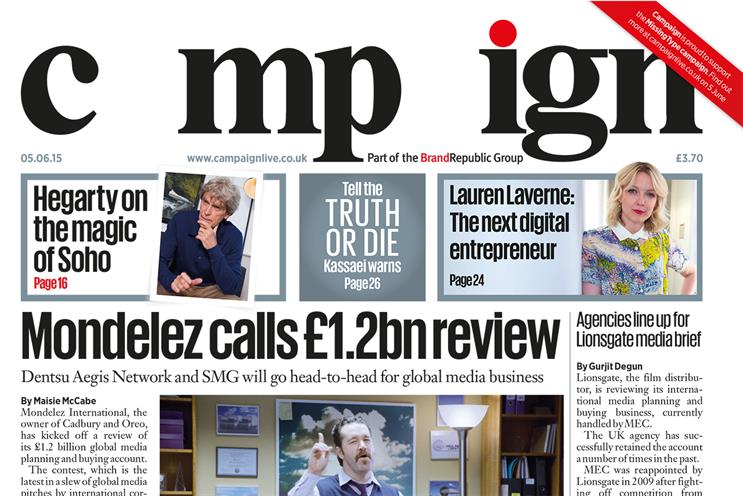 Ahead of National Blood Week (8-14 June), NHS Blood and Transplant persuaded several high profile brands to remove the letters from their name.
Waterstones' Trafalgar Square shop lost its A and O, Odeon dimmed the Os at its flagship cinema in Leicester Square and Green & Blacks Organic also removed the As, Os and Bs from the Blood Orange chocolate bar. The Daily Mirror will also be supporting the campaign on Monday.
Today, NHS Blood and Transplant has revealed the missing letters are part of its new campaign "Missing Type", which was created by Engine.
The campaign highlights that if not enough new people donate these blood types in the next few years, there won't be enough blood available to help patients when they most need it.
According to the NHS Blood Transplant, there were 40 per cent (120,000) fewer new blood donors last year compared to a decade ago.
The campaign is backed up by a social campaign developed inhouse and by Twenty Six Digital. The public will be asked to help spread the word by dropping letters from social profiles and to post images of people supporting blood donation with letters missing from their names.
It will be backed up with PR activity, targeting TV, radio, print and digital media with case studies, research and highlighting local support for the campaign. This part of the campaign will address myths of blood donation.
NHS Blood and Transplant has introduced a digital appointment-based system and app available on tablet and mobile that make it easier for people to book appointments to donate. These have already been used by over 700,000 people.
Jon Latham, the assistant director for Donor Services and Marketing at NHS Blood and Transplant, said the campaign aimed to "strengthen the donor base for the future."
He explained the reasons why there has been a decline in new people donating: "We know that people's lives have got busier over the last decade. People are working longer hours, commuting further, spending more time online and have less time of their own, despite more options of how to use it.
"Good causes are also competing increasingly for people's attention and time. Travel to more exotic places, tattoos and investigations such as endoscopy are becoming more common and these lead to short term deferrals from donation."
People who want to donate can go to www.blood.co.uk to find out if they are eligible and book an appointment.