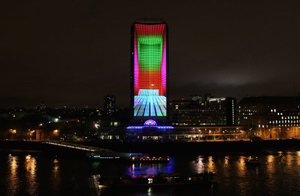 The 120m high tower was plunged into darkness before a spectacular 4D light show devised by Drive Productions was projected onto it, which made the tower seem like it was falling down, spinning around and spawning giant butterflies from its windows.It was the biggest projection mapping show ever seen in London.
Each of the building's 800 windows were covered with vinyl as 16 projectors, stationed 300m away on the other side of the river, beamed 4D images onto the structure.
The show, which drew thousands of spectators on the banks of the Thames, was accompanied by an exclusive set from producer Deadmau5, who created two new remixes for the performance.
To watch the show in full, click here.
John Nichols, marketing director at Nokia told Event that he's been "blown away" by the response. "We've had an incredible response to the show from spectators, on Facebook and on our live streams. It was a real first, and we feel that with it we're bringing back the Nokia brand."
The event wasn't without its technical hitches, with two speakers on the south of the river failing for 13 seconds during Deadmau5's performance. Nicholls said it didn't stop anyone's enjoyment of the show. "When you do something like this, there is always risk, but that's what we're about."
VIPs followed the show with an exclusive after party at Altitude 360 on the 29th floor in Millbank Tower. It featured another set by deadmau5 which lasted over an hour.
Altitude London's marketing director, Peter Kerwood, said: "Altitude London was delighted to be involved with this incredible event. The production was epic. I've never seen anything quite like it, and Millbank Tower will never been seen in the same way again!"
What did you think of the 4D projection mapping? To leave a comment register and let us know your thoughts.