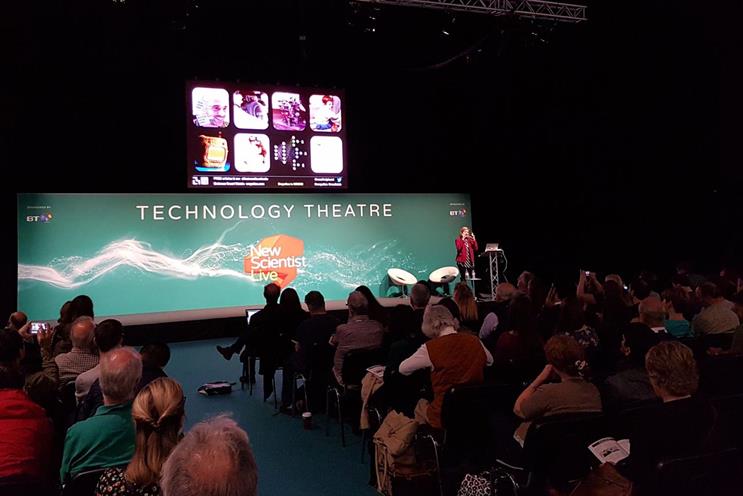 Speaking on the first day of New Scientist Live, Picard shared some of the work she was producing with the non-profit MIT research group she founded, Affective Computing Research Group, which studies and develops systems and devices that can recognise, interpret, process, and simulate human affects.
Early on, the goal used to be producing computers aimed at reading human emotions as accurately as possible but soon Picard realised that as a goal, that was not sufficient.
"It's not about making the smartest machine in the world. It's about making lives better. And if we lose sight of that we'll go down a path we'll regret later," she said.
One of Picard's interests is using technology to craft better experiences for people who have difficulty communicating emotions. To have computers read emotions we as humans cannot detect.
"An autistic girl I was working with told me, 'Roz, you've got it wrong. It's not that I don't recognise emotions in others, you don't recognise mine. It's not just you. It's everybody not recognising my emotions'," Picard shared.
And Picard found it to be true that, while outwardly people with autism can look chilled, even disconnected, they are in truth sometimes so autonomically overloaded that they are about to "explode".
"A kid lying on the floor, looking lazy, may actually be applying deep pressure to his body to calm down. And by picking that child up and making them stand you're pushing them over the edge," Picard said.
It became important to provide caregivers and others around such children a signal that they were experiencing emotional overload. So Picard and her teamthe first clinical-quality wireless wearable device that monitors the body's autonomic nervous system through the skin.
But while developing it with MIT students, Picard found another use for the device. One student asked her he could borrow a sensor over Christmas to see what was stressing out his little brother.
"At one point the little brother's stress levels went off the chart, but only on one side. We thought the sensor was broken. It turns out, he had a grand mal seizure and the sensor had picked up the body's response associated with the seizure," Picard explained.
Picard's team built more devices and validated the finding in dozens of patients under gold-standard conditions. She realized they needed a company to get this finding to patients. She co-founded Empatica which today sells the wearable "Embrace" to provide alerts to convulsive seizures.
"Not only are we using this to detect seizures, but by using it to alert someone we are preventing a sudden unexpected death in epilepsy," Picard said.
It's a little-known fact that death from seizures kills more people than house fires or sudden infant death syndrome.
"If there was an alarm to bring someone there… checking on someone and stimulating them might help get them to start breathing again," Picard said.
Today, Embrace is a medically-certified device in Europe for convulsive seizure detection and has helped saved the lives of many epilepsy sufferers because a caregiver was alerted in time.
Predicting emotional health
What if technology could take things one step further? What if it could move from reading emotions to predicting it?
"We are, for healthy people, how a long of things wearables and smartphones can be put together with advanced machine-learning to not only understand your mood in the present but actually forecast your mood," Picard said.
Beyond helping people cope with life better, the technology could have applications in helping depression sufferers cope better, or even avoid a depressive episode altogether by taking certain steps.
"We can now forecast with 82% to 87% accuracy if you will be happy or sad, along with your health and stress levels tomorrow night," she said.
Currently, the project is confined to New England college students which, Picard pointed out, is like being able to forecast the weather accurately for just one town.
"In order to build up the science of this, we'll need partners. In many cities. Across the world," Picard said.
Because the goal is not just to predict but to also provide insights about what you can do within the next 24 hours to change that forecast.
"We know, for example, that regular sleepers, for example, have lower stress and better mental health. Fixing sleep may be a significant part of fixing mental health for some people. There is also evidencethat your sleep has a bigger effect on your mental health than the other way around," Picard said. "What else could we learn?"