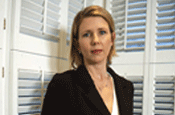 Mitchem, who has worked in new business for many years at agencies including M&C Saatchi and Rainey Kelly Campbell Roalfe, was hired by Lowe's former chief executive, Garry Lace, in March 2005. The agency's most prominent domestic win since then has been the John Lewis account in 2006. Latterly, Mitchem has been running that business in addition to her marketing responsibilities.
Kirby joined Saatchis as executive director for business development and growth at the end of 2005. He was hired by the agency's then chief executive, Lee Daley, who poached him from Diageo, where he had global procurement responsibility.
Robert Senior, Daley's replacement and the chief executive of SSF Group, said: "After two years at Saatchi & Saatchi, Adam Kirby is leaving the agency at the end of the year to pursue new challenges. Adam is immensely talented and he goes with our best wishes."
Neither Kirby nor Mitchem were available for comment.