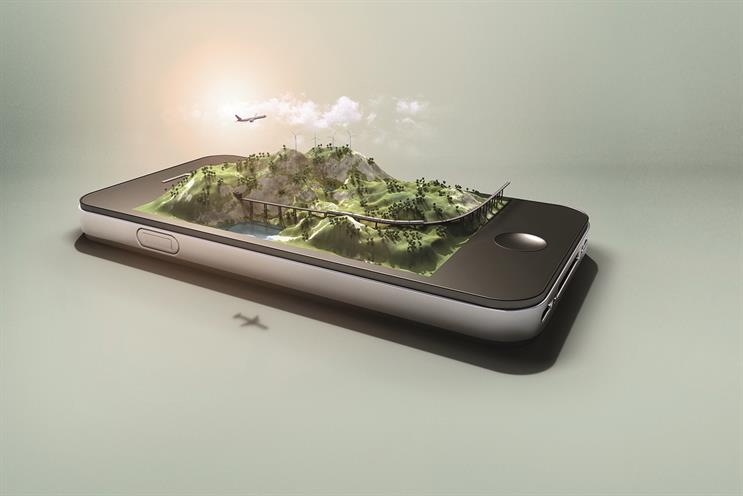 Virtual reality, augmented reality, extended reality. Are these overused buzzwords, or technologies that actually extend and enhance customer experiences? They started as gimmicks but are rapidly transforming into serious marketing tools that can drive real value. When used well, VR-AR-XR can extend throughout the marketing funnel – from large, impactful moments in time, through to sales conversion.
Take the recent Samsung S8 execution on the Samuel Beckett Bridge in Dublin. Using a handset, the bridge transformed virtually into a harp, while in reality it was a large-scale sound-and-vision installation. This was a powerful marketing moment, blending virtual and real, that had great traction and pull-through for the brand.
On a different scale, Abbie Walsh, group director, Fjord, UK and Ireland, cites Accenture Interactive's work with Velux as a strong example of experiencing a brand virtually, and enabling a new way to interact with products and services.
The windows brand identified its purpose as creating better living environments by bringing daylight and fresh air to people's homes. Its ambition, using VR, was to help homeowners see these benefits in their own houses. Fjord and Accenture Interactive created My Daylight, an app that gives customers a 3D representation of their actual room with new Velux windows. However, Walsh sounds a warning: "People have to learn how to use new technologies like VR. And because there's a learning curve, they have to have a compelling reason to do so. It can't just be about entertaining them, it's also about utility and real customer value."
She adds: "The real challenge is to help CMOs understand new technology very quickly, like AR and VR, and help them use it as tools to augment the stories they want to tell."
EE recently created a novel VR activation on the red carpet at the BAFTA awards. Peter Jeavons, EE's brand and marketing director, agrees with Walsh: "Key to driving scale with an activation is to consider carefully the most appropriate channel to reach your customer and then assess how they are actually using the platform."
Choose your reality
A substantial impact for these new realities is expected across all industries. Accenture's "Technology Vision 2018" report predicts that XR will be game-changing, with more than half of businesses surveyed (52%) developing an extended-reality strategy, and 79% believing it will have a widespread, cross-sector impact over the next three years.
Growth can be seen mainly in two areas. First, there's virtual sampling of products – you can try stuff sitting at home whenever you want. It's ultra-convenience for the always-on consumer. BMW, for example, is experimenting with XR to revolutionise its showrooms, enabling consumers to explore and choose specifications from the comfort of their sofa. And tourism is a category that has seen a substantial impact. As Walsh says: "You can massively increase sales by allowing people to experience the destination before they even book."
The real challenge is to help CMOs understand new technology very quickly

Secondly, there's the merger of the digital and physical worlds, where VR-AR-XR can push valuable information and messages to the consumer to augment their actual in-store experience. Whole Foods Market, for instance, has created an app that enables shoppers to browse the store's aisles and receive tailored products, such as information on allergies and recipe ideas. Many companies are also blending the virtual and physical for training and development, allowing people thousands of miles away to experience and adapt to different environments.
An instant return on brand activations
A third area is also emerging, as these technologies are used to create new products and services that augment the brand, and have their own marketable value.
Jon Wilkins, chairman of Karmarama, points to the VR firm The Void's "Star Wars Experience", which cost £32.50 per ticket.
This pop-up, hyper-reality experience, which took place in the Westfield Shopping Centres in London, enabled fans to step into character and onto an eerily real, far-off planet, complete with sounds, smells, vibrations and temperature changes.
Wilkins believes its success story has "an interesting moral", particularly for those brands that have entertainment or sporting licences. "Rather than viewing [the activity] as a potential loss-leading marketing initiative, they've created another way, which brands can learn from and earn from."
Naturally, with Star Wars, the experience is the product – but this doesn't mean other sectors can't learn from it. Ferrari World in Abu Dhabi, or Lego's theme parks and movies, are marketing tools that bring in revenue. Wilkins points out that they can now be scaled: "In the past, if you wanted to do an experiential activation, you had to build a great big place – Ferrari World or Legoland. It is hard to export it. Now you can create mass-scale experiential and move it around the world. There's lower cost, smaller space, greater transportability."
Novelty v utility
But, as with every new technology, there is the risk of "shiny new object syndrome", where the focus is on novelty. Brands must use XR in a way that is grounded in business reality and tied to strategic objectives.
Joy Bhattacharya, managing director, Accenture Interactive UK and Ireland, says: "New technology must be used for utility, in service of the customer. The long-term marketing benefit comes out of showing how the brand is genuinely enhancing the experience for the customer, across every touchpoint."
He adds that once the initial PR burst has faded – and this does have enormous importance – the experience and creativity need to lead, not the technology.
Jeavons echoes this: "We begin with the customer experience we want to deliver using our network, then we think about what technology we'll need to create the best possible version of this experience. For this reason, it's not always about using the newest technology, it can be just as effective using a combination of existing technologies in a creative way."
For the first time since the tech revolution started, the reality of every brand is available to every consumer through the virtual power of the phone in their pocket – and they might even pay for it.
The CMO's challenge, as always, is to be discerning about the activation and stay true to the brand.