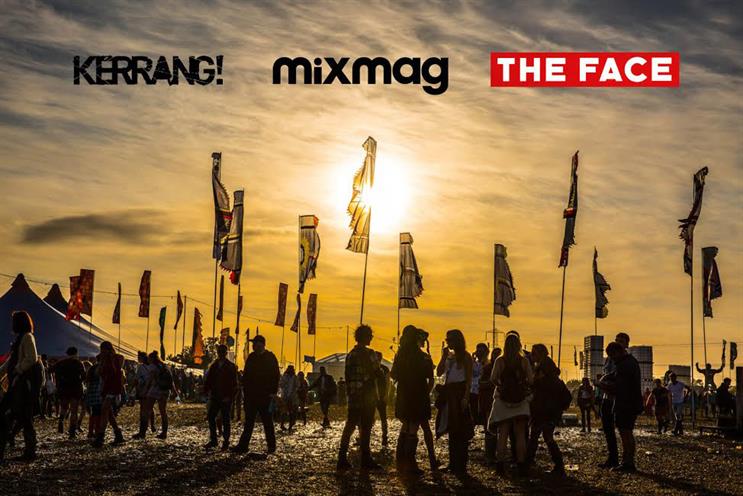 Mixmag Media, which made its name in the 80s and 90s during the dance music boom, has reinvented Mixmag in recent years by expanding online and in digital video and hopes to do the same with the Kerrang! and The Face.
Jerry Perkins, who runs Mixmag Media, plans to turn Kerrang! from a print weekly to a monthly in the UK and focus on building its global, digital audience.
"Mixmag and Kerrang! are quite similar – they're 'f*** it' audiences," Perkins said. "They like what they like and don't care about what anyone else thinks."
Perkins will also revive The Face, which closed in 2004, as a digital brand.
He described it as "the original style magazine" that "has never been bettered".
He is "possibly" looking at bringing back The Face in print but won't discuss his "really exciting" plans for the brand "in London and New York" until later in the year.
The Face was founded in 1980 and Kerrang! in 1981 and Perkins said historic titles had appeal with readers.
"It's difficult to establish new media brands in today's digital marketplace," he said.
His initial focus is on Kerrang! after acquiring the global rights to the print magazine, its website and its awards.
"Kerrang! is a trusted brand because of the years of passion, knowledge and profound enthusiasm that have gone into producing it, week in, week out.
"Under our ownership Kerrang! will take its rightful place at the heart of a global digital community of like-minded spirits. The platforms are there and, thanks to our recent experience with Mixmag, we know how to use them.'
Bauer Media will retain the rights in the UK and Europe "to continue broadcasting Kerrang! Radio and Kerrang! TV".
Perkins said that it was important to keep Kerrang! in print "as the soul of the brand", as Mixmag has done, but "we'll move to a digital video-first strategy with Facebook and Google to build an international audience".
Mixmag claims a global reach of over 20 million fans a month. Its YouTube channel has eight million video views every month and it has five million on Facebook a month.
He added that moving Kerrang! from a weekly to a monthly made sense as it was a better use of editorial resources.
"The monthly frequency suits these 'passion' magazines," he said. "It doesn't need to be a weekly because news in this area has gone digital. If you're in LA, Kerrang! is a really well-loved [digital] brand."
But he suggested Kerrang! "has been suffering" by putting a lot of its resources in "a relatively low-production, weekly print magazine in the UK".
Print circulation is 18,000 compared to 85,000 in 2006.
Perkins will review staffing levels once Kerrang! goes monthly and "may have to lose some posts".
He dismissed the suggestion that Mixmag or Kerrang! might appeal chiefly to ageing audiences who were interested in nostalgia.
"They are both most definitely a youth audience," he said. "They're opposite sides of the same coin which is interesting to us.
"They're both a bit outside the mainstream. Both are a bit counter-cultural, if anything can be counter-cultural in music these days."
Mixmag Media has funded the acquisition out of its own funds and from existing shareholders. Financial terms were not disclosed.
The company is to rename itself Wasted Talent, the name of a former talent agency run by Ian Flooks, the chairman of Mixmag Media and a leading shareholder.
Perkins said the acquisitions would make the group an attractive audience for advertisers.
"'In a post-Vice world, we believe there are exciting opportunities for these iconic and market-defining media brands to offer commercial partners specialist advice, inside knowledge, access to talent and the story-telling skills to help them create influential content," he said.
"We're really excited by the potential to create a media powerhouse based on passionate tribes leading counter culture."
A Bauer Media spokesman said it "continues to be hugely invested in music media – be it radio, print, live events or our music TV joint venture with Channel 4" despite the sale of Kerrang!.
"We will continue to invest in our successful magazine brands Q and MOJO, and are excited to extend the Planet Rock radio brand into print."