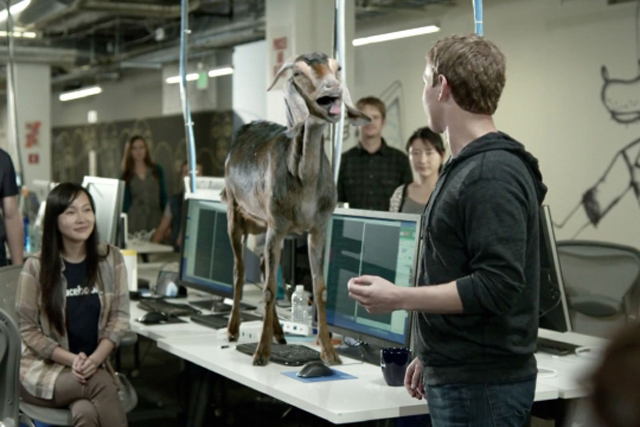 The figure represents a dramatic rise in its mobile business, which hardly existed 12 months ago. Now it accounts for one in every three dollars it generates.
First quarter revenues rose to $1.46bn, compared to $1.06bn, as net income was up by 6.8% to $219m, from $205m last time, and mobile ad revenue was up to $375m a rise of 22% from the previous quarter.
Facebook said it earned 12 cents a share compared to the 13 cents that analysts, polled by Thomson Reuters, were looking for.
The mobile ad revenues figure of $375m easily beat analysts' expectations. JP Morgan analyst Douglas Anmuth had been hoping they would come in at around $320m.
Mark Zuckerberg, Facebook's chief executive, said: "We're starting to see real revenue."
One of the real growth areas for mobile ad revenues that is becoming increasingly central to Facebook are ads that encourage users to install third-party apps, which, according to Zuckerberg, could grow meaningfully.
"We're starting to see real revenue from mobile app installs. It's one of our most important new ad products,"said Zuckerberg, although he gave no details.
Mobile had been a real source of worry for Facebook investors around its IPO as some worried that it had no strategy to generate revenues from mobile.
Last year Zuckerberg admitted there had been mistakes: "There is no doubt we had a bunch of missteps on this. But we've transitioned now and we are a mobile company."
In October the first signs of that mobile strategy were seen as Facebook revealed that 14% of the company's ad revenue is coming from mobile – that figure has more than doubled to 189 million users.
Despite the upbeat results shares, Facebook are still down from their January high of $32.40 to $27.70.
There was other good news from Facebook as Zuckerberg said Instagram was showing strong growth. He said it was growing faster than Facebook did at a similar stage in its history.
Facebook said active users stood at around 1.11 billion monthly, with around 665 million daily active users.
It also revealed that nearly 200 million people who do not own computers are still on Facebook, with people opening their app as many as 15 times a day.