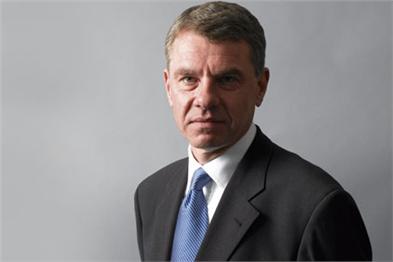 Speaking at the IAB's annual Mobile Engage event in London yesterday (17 May), Eyre noted how the increasing popularity of smartphones has presented a huge opportunity and challenge for marketerers.
He warned marketers there was a risk of "scoring an own goal" if they do not use mobile properly. Eyre said that mobile is the first device which is tailor-made by the user, who can populate it with their own apps to create a personalised device.
The event also included presentations from Shazam, FT, Google, Twitter, O2 and featured presentations on the 'Rise of tablets', 'How mobile is driving social media' and 'How brands are making the most of mobile'.
In contrast to other media, such as TV or radio which define a user's experience and slot advertising into it, Eyre said, in mobile the experience is defined by the user. He noted at the same mobile can be "a richer, more rewarding" experience, but its personal nature made it a "special place, demanding special care".

"If brands are not to be resented in this highly personalised space they must blend, not distract, but be part of a suite of apps," he said. "I define and invest so much of myself in this device, I don't want it hijacked. Brands can join in, but not invade."
To illustrate his point, he referred to recent comments made by Stefan Olander, vice-president of digital sport for Nike, reported in Marketing, about the need for brands to add value to smartphone devices, instead of thinking about selling inventory.

He suggested brand sponsorship of apps is an effective way to engage with consumers in mobile rather than advertising through banners.

"Don't think about advertising, think about 'mobilising'," hesaid. "It is important to be embedded in this way of thinking, so you can laugh a contemptuous laugh when you see a competitor try and do it in banner."

His comments reflected those made earlier at the conference by Claire Valotti, managing director of O2 Media, who said mobile is less about the device and more about "connectivity".

She said: "When you think about connectivity it opens some far more interesting conversations" and enables brand to make "life easier and add value" for consumers.

Valotti said that is is one of "the biggest challenges" is "to get more brands to get in mobile."

Andrew Fisher, chief executive of Shazam, discussed results from the ITV partnership with Pepsi and Cadbury the first brands in the UK to enable the audio-recognition app in its ads.

He said 50,000 Shazam tags were activated by viewers of Britain's Got Talent at the weekend, even though the service was not pre-marketed and it was the first time many of them would have seen the service in advertising.

"This is an inflection point in consumer behaviour, where they are more comfortable and less resistant to new technology."

"Consumers are moving far faster than any of us can imagine," he said, "and that represents a huge opportunity for all of us."
Follow Sarah Shearman on Twitter @Shearmans