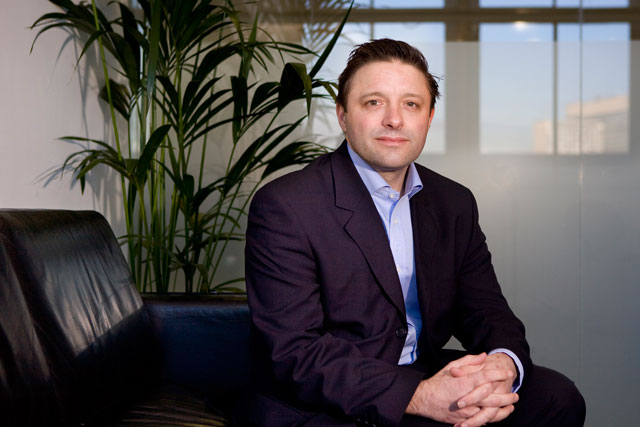 It takes us a while to work out why Shaun Gregory isn't giving us his usual high-powered shtick about mobile advertising and is taking great pains to talk about a whole range of Telefonica's current and possible online advertising opportunities.
It's slightly disconcerting: because, as the boss of O2 Media, he has been best-known in recent times as one of the UK's most passionate advocates for mobile - and our easy assumption was that, in his new global role for O2's parent, Telefonica, he'd be doing more of the same, except on a bigger stage.
And, of course, our problem is that, in our Anglo-centric ignorance, we've never even heard of Tuenti, Spain's Telefonica-owned answer to Facebook. Or, indeed, Terra, its Spanish online portal. From now on, as Telefonica's global director of advertising, Gregory's not only playing in a bigger league, he's going to be playing a slightly different game.
And as of last week, he was also slightly hamstrung. His promotion was part of a major corporate restructuring process begun a month ago - and some of the detail has clearly not yet been entirely thrashed out.
In early September, Telefonica announced that it was restructuring into two "super regions" - one operating unit gathering together all European markets and another covering Latin America. It has also created Telefonica Digital, a global outfit designed to manage and develop the group's online (mainly advertising) revenues.
It will be headed by Matthew Key, formerly the chairman and chief executive of Telefonica Europe, with Gregory now reporting to him; and its 2,500 worldwide employees will be spread across London, Madrid, Sao Paulo, Palo Alto, Tel Aviv and an (as yet unrevealed) Asian location.
So, although Gregory's headquarters will almost certainly be London (with the bulk of the 2,500 Telefonica Digital staff here too), he can't give us chapter and verse on how the whole thing will be structured. Nor can he even tell us definitively where his office is likely to be located. The odds are it will be in London - but not in the bijou Ganton Street pied-a-terre that O2 Media shares with Facebook.
So, some of the detail about exactly what he'll be doing still seems a little hazy and abstract - but that doesn't deter a man like Gregory. He does what (some people think) he does best - he steps up resolutely, takes a deep breath, and pitches us the future and Telefonica's role in creating it. It's difficult interrupting or deflecting him when he's in full flow - he's like a cross between a Yorkshire terrier and a heat-seeking missile.
"If you were describing it in headline terms," he explains, "Telefonica Digital is there to lead growth for Telefonica globally, with a whole range of new products and services and digital properties."
He says the plan is to grow Telefonica's advertising base across all screens of all sizes, from mobiles, naturally, to tablets, PCs and IPTV-enabled living-room TV sets.
But, though Gregory doesn't want to dwell excessively on mobile advertising (or appear immodest while doing so), it's clear that his promotion is a reward for the success he has made of O2 Media.
Because mobile advertising has been growing spectacularly of late - and O2's proposition, which majors on targeting, based on a slew of date options (billing patterns, handset usage, preferences, plus behavioural and demographic data) and which is increasingly able to serve ads to consumers in specific (retail-related) locations, is particularly compelling.
So mobile will continue to loom large in Gregory's new role. And the appointment is also confirmation that he has found a true home. Before he joined O2, his curriculum vitae was beginning to look decidedly cluttered and untidy.
He had come to prominence at Emap Radio in the mid-noughties, then, following a number of consultancy roles, joined Telegraph Media Group in October 2006 as its new-media chief. He stayed only a year, jumping ship in October 2007 to become the chief executive of Blyk, the ad-funded mobile telephony start-up. This time, he stayed just over 12 months before leaving in January 2009 for what the company described as "personal reasons". He joined O2 a month later and was instrumental in setting up O2 Media.
Gregory admits he's very happy with the way his career has been shaping up since. "The job here is just the best in the business," he states. "Telefonica is a diverse company full of talented people. It must employ something like 278,000, but it feels like a close-knit community that's determined to make things happen. That's a fantastic feeling to have."
And his former colleague Dave King, the executive director of Telegraph Media Group, argues that Gregory is a great asset to any organisation. He comments: "Shaun doesn't just open doors, he's someone who knocks down walls. He is determined and relentless."
Gregory admits he can't wait to get cracking: "It will be about building on what's there - and for me personally, taking my skills and adapting them to new markets."
And he concludes: "I'll be travelling a fair bit across the five main offices. I don't think it works for someone with a global role to be sat all the time in London. I want to meet the teams and I want to meet customers. The only way to make a success of that is to throw yourself into it. I'll certainly have to learn Spanish very quickly."
THE LOWDOWN
Age: 43
Lives: Sussex
Family: Wife, Ruth; daughters, Lily (ten) and Ella (7)
Favourite media: Sky Sports (on the mobile and iPad) and The Sunday
Times - heaven
Must-have music: The stuff my kids listen to
Last book read: At The Devil's Table by William C Rempel
Interests outside work: Running, gardening and time with the girls
Motto: Always treat people the way you expect to be treated yourself