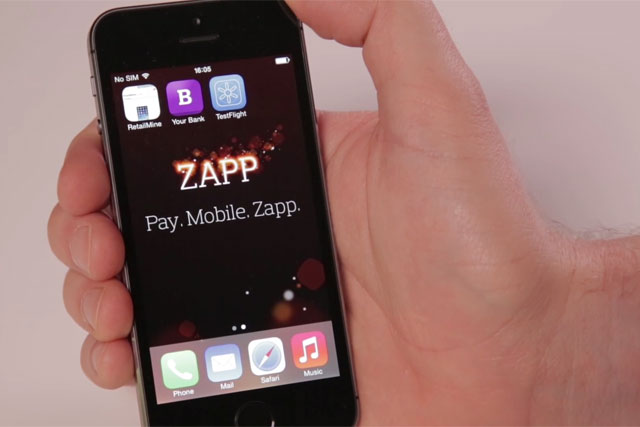 Zapp has already partnered with HSBC, First Direct, Nationwide, Santander and Metro Bank to provide its technology to the banks' 18 million current account holders, which account for a third of the UK market.
The Zapp technology does not require a standalone app and instead allows online retailers to deliver a "slick checkout process" by integrating the technology into the customer's mobile banking app.
Justin Basini, chief marketing officer at Zapp, said the company was still in discussions about partnering the other major financial institutions, but felt now was the right time to announce its initial partners.
He said: "The reason we felt confident with a third of the market is 18 million customers gives you about the same scale as PayPal in the UK. It's that sort of level that we feel is credible."
Zapp is priced "competitively" and will charge a transaction fee that is a "fraction" of the 2-3% fee PayPal charges, according to Basini.
Retailers will be charged a flat fee of 20 to 30p by Zapp, regardless of the price of the product. Zapp has partnered with payment gateways including World Pay to give it access to 60% or 120,000 of the UK's retailers.
Basini says the three objectives of its first consumer marketing campaign will be to "make people aware of the brand, educate them on mobile payments and drive usage".
Rob Skinner, PR director at PayPal UK and Ireland, claims his company welcomes Zapp to the market to help deliver "the future of money".
He said: "We're evolving the wallet from a physical thing — whether a traditional wallet or a phone — to a connected experience that follows you wherever you go and works with whatever device you're using.
"Money's digital switchover is underway. By 2016, we predict that you won't need a physical wallet to shop on the British high street - our vision is that the digital wallet doesn't just replace a physical wallet but is something that will include offers and loyalty schemes as well as bank accounts, credit and debit cards."
Zapp will also compete with a mobile wallet from Weve, the joint venture between Vodafone, O2 and EE.
Basini claims Zapp has an advantage over Weve given that is a complimentary feature on a user's bank account, whereas Weve's mobile wallet is expected to require users to integrate their card details into their mobile device.
Mobile payments will prove a "competitive landscape" with rivals such as Weve and PayPal argues Basini, but it is a rapidly growing market.
Basini said: "If you look back five years, would we have believed we would be taking hundreds of millions of photos a year on our mobile phones and watching movies, listening to music and reading newspapers on our mobile phones? The direction of travel is towards more functionality going into the mobile phone."
Eden Zoller, principal analyst at Ovum, believes Zapp taking a year to develop its offering rather than "rushing to market with a half-baked offering" has laid a "solid foundation".
He added: "The ability to provide scale is a critical success factor for mobile payments and Zapp has made a promising start.
"However, to succeed in its ultimate goal of becoming a single, industry wide m-payment platform, Zapp will need to get the other major UK financial institutions behind it, such as Barclays, that has its own Pingit application that is proving popular in its own right."
Zapp is owned by VocaLink, the operator of the UK national payments infrastructure, and is owned by a consortium of 18 banks and building societies, including Barclays, RBS, Lloyds, HSBC and Santander.