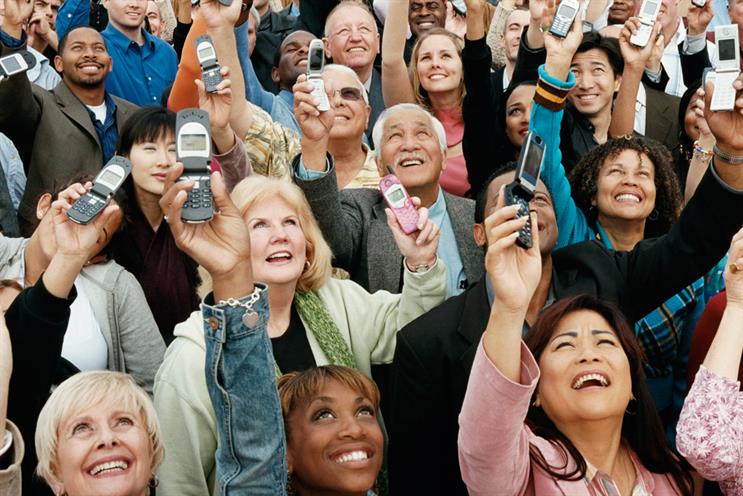 In an effort to stay on top of the changing pace of technology, many marketers are choosing to attend technology trade events such as the Consumer Electronics Show in Las Vegas in the hope of being able to piece together what is important.
Why? Because the job of marketing and communication has become inextricably connected to, and impacted by, technology.
Mobile World Congress, which takes place during 24-27 February in Barcelona, will be another such opportunity. Beyond the folks buying and selling tech, a growing crowd of brands and agencies will gather in a bid to understand mobile. So how should you tackle it?
One approach is to perhaps see beyond the confusing array of devices and technologies themselves and, instead, pick out the themes that connect them together. What's the story behind the tech and, crucially, is it an enabler? What problem is it solving for your customer?
To help frame this, here are five trends that we've identified to use as your filter.
1
Get ready for the 2020s
In 2011, the network provider Ericsson released a paper predicting that, by 2020, there will be 50 billion connected devices. Coupled with this is a report from the GSM Association and Machine Research, which predicts that the impact value of the connected life could stretch to $4.5 trillion by 2020.
From wearables to the connected home, it is hard to ignore this news or how big tech companies are predicting its economic and cultural impact. The value here is to realise that you need to move from understanding mobile as device to devices unlocking a person's mobility. Connected devices are only useful because of this.
So, in the face of this, how do you perceive the impact on what you do? What is your five-year plan?
2
New transaction/new economy
Through the growing popularity of peer-to-peer sharing and the advent of new platforms and services, people are realising their own ability to create new value. Transactions are becoming about more than just money and mobile payments, and whole institutions are being democratised and disrupted.
In this context, the concept of transaction means more than the "payment" at the end but the understanding of value exchange at all stages of a dialogue with consumers.
DHL's MyWays is a great example of this. It is a specially designed mobile app that facilitates last-mile deliveries in Stockholm by connecting individuals who ask for flexible deliveries with members of the public offering to transport parcels along their daily routes for a small fee. It experiments with creating a whole new economy for the local community.
3
Remix revolution
Customers are getting used to personalised products and services and finding like-minded people to create the perfect product. "Remixing" existing products to give exclusive editions is getting easier as low-volume manufacturing becomes cheaper and marketplaces are springing up to facilitate the connection from buyer to seller.
Last year, the online handmade marketplace Etsy sold more than $1 billion in merchandise, all before Christmas – showing a clear demand. Motorola also provided mass customisation on demand with the Moto X. All this is possible only because of the connected ecosystem, where technology is enabling industries to thrive. This niche is growing, which means manufacturers of mass-produced items need to provide similar capability to adapt to this demand for custom, exclusive products and services.
4
TV time zones
It is said that ubiquity is often the best sign of success in technology and, as streaming services become "normal", the way we interact with video content is at that tipping point of ubiquity. Set free from the usual technological constraints, it has become real-time, interactive and social.
A new generation now relates to the world through the lens of content creators who are using platforms such as YouTube for an ongoing dialogue and who now achieve audiences that broadcasters and brands salivate over. As people demand content on the go, the idea that this content can fit around people's "content time zones" (ie. the difference between what I watch waiting for a bus versus what I might want to watch during longer periods of free time can be measured and targeted) opens the way for long- and short-form content to have a place, where people are happy to pay for content they love that fits their lives.
A global audience therefore allows niche content to be created profitably – but where is the advertising opportunity?
5
Invisible interfaces
Wearable tech is beginning to break out beyond the sports and wellness wristbands to devices that can now be integrated into and applied to a growing range of important functions.
This suggests a future where actions and tasks can be performed without having to rely on screens on your mobile and where our bodies become the interface. Small sensor devices in clothes, cars, contact lenses etc mean hospitals will be able to provide a diagnosis based on vital statistics tracked in undershirts and biometric devices capable of scanning blood vessels can enable your finger to become a method of payment.
As the reliance on these connected devices increases in our daily life, data will be crucial in translating this into actionable behavioural change through a connected platform and service experience.

Mark Jackson is the chief technology catalyst and telecoms practice lead EMEA at McCann Worldgroup