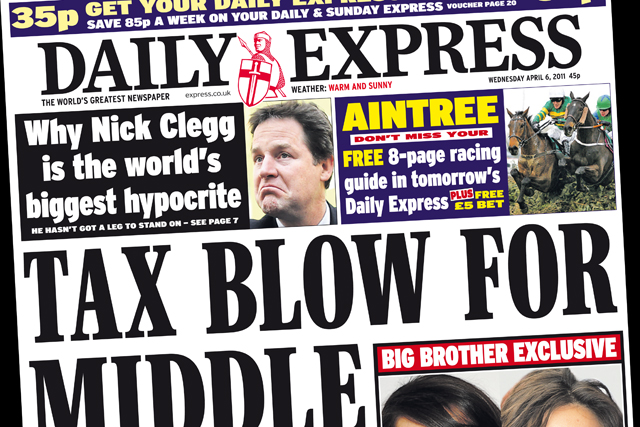 Al Fayed, who sold Harrods for £1.5bn last year, is believed to be one of a number of possible buyers, as are the Candy brothers, the property developers, and a number of national newspaper publishers.
A well-placed source told Media Week that he believed discussions have taken place between Desmond and Al Fayed over the possible sale of the four national newspaper titles – the Daily Express, the Sunday Express, the Daily Star, and Daily Star Sunday.
Al Fayed is, according to the source, a long-term friend of Desmond.
At a party held by Al Fayed last year to mark the sale of Harrods, Desmond paid a glowing tribute to the Egyptian businessman, via satellite, championing him for his charitable donations.
Desmond is conducting a review of his media assets, which includes the possible sale of his magazines and national newspapers. Channel 5, which he acquired last year, is not part of the review.
Desmond's Northern & Shell has appointed Goldman Sachs to conduct a review of its newspaper assets and Barclays Capital to review its magazines.
Daily Mail & General Trust (DMGT), the publisher of the Daily Mail, and Trinity Mirror, publisher of the Daily Mirror, are thought to be interested in Desmond's newspaper assets, though DMGT's interest is believed to be the stronger of the two.
According to Sky News, DMGT is holding ongoing talks with Desmond over the sale.
Sources close to Northern & Shell have sought to play down the idea of Desmond selling his national newspapers and celebrity magazines, saying he is conducting a "stock-take" of his assets.
They say there is no agenda or deadline for Desmond to sell the magazines and newspapers.
Al Fayed has an interest in publishing after he acquired the now defunct satirical magazine Punch back in 1996.
His current assets include English Premiership football team, Fulham Football Club and the Hotel Ritz in Paris.
Al Fayed has held a long-standing vendetta against the royal family and has previously accused the Duke of Edinburgh of murdering his son Dodi Al Fayed and Princess Diana by staging a car crash in Paris.
Northern & Shell declined to comment. Trinity Mirror said it did not comment on speculation and DMGT declined to comment. Al-Fayed was unavailable for comment and the Candy Brothers declined to comment.