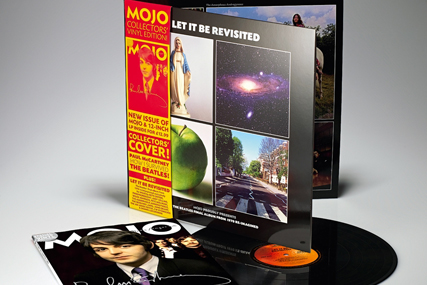 A limited run of 10,000 copies has been created of the album, which is a version of Let It Be Revisited – The Beatles's final album from 1970, covered by a selection of modern artists, including Beth Orton. Mojo currently sells an average of 91,678 copies each month according to latest ABC figures.
Bauer Media has said that the covermount is a response to a renewed consumer interest in buying vinyl. Sales of vinyl in the UK grew by 5.2% in 2009, with the biggest-selling vinyl album being Bon Iver's For Emma, Forever Ago.

Phil Alexander, Mojo's editor-In-chief, said: "The Mojo vinyl edition is our way of celebrating the rebirth of vinyl that we've seen in recent years. Essentially, we created an incarnation of the magazine that we wanted to buy ourselves, so it was something of a labour of love."

The October issue will also feature an interview with Paul McCartney, who discusses the records he made as a result of The Beatles's split – starting with his eponymous album in 1970 and culminating with Paul McCartney and Wings' 1973 album, Band On The Run.

The issue also includes articles by author Jon Savage, who examines the impact of The Beatles's demise, and journalist Mark Paytress, who chronicles the rise and fall of the band's label, Apple Records.
The Mojo Vinyl Edition will go on sale August 31, five days after the standard issue of Mojo is available in the shops. Mojo's tagline is: "Quality music news, views and recommendations by nice people who know".