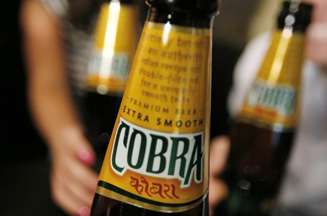 Last week, the brewer launched dedicated business unit the Cobra Beer Partnership. This follows Molson Coors taking a majority stake in Cobra after the brand had fallen into administration earlier in the year.
Kevin Wallace, brand director of the Cobra Beer Partnership, is now conducting a review of its agency roster. This includes Joshua, which handles its ad account, direct marketing shop Initials and digital agency Poke.
Wallace said Cobra would be supported by a £10m marketing spend over the next three years. This is a reduction on the figure under its previous owner, Karan Bilimoria, who retains a stake in the partnership.
'It's less than what was spent, but my sense is that it will be more targeted,' said Wallace. An announcement on the agencies will be made next month.
Molson Coors splits its advertising business between Beattie McGuinness Bungay, on the Carling account, and Leith, which handles work for the Grolsch and Coors Light lager brands.
Under the previous management, which included Will Ghali as marketing director, the brand had attempted to move away from its Indian-restaurant heritage to expand into mainstream pubs and bars. It ran a TV, press, outdoor and digital campaign on the theme of pub banter.
Wallace said the brand would now return to a focus on its ethnic food heartland. It is sponsoring National Curry Week, from 22-28 November, and also sponsored the Brick Lane Curry Festival at the end of September.
Under the new management, it is axing its Light variant and, in conjunction with the BitterSweet Partnership, Molson Coors' business unit designed to encourage women to drink beer, it is reviewing the future of its flavoured Cobra Bite range.
Molson Coors is midway through a media agency review. It is believed that it will consolidate the Cobra media account, held by Manning Gottlieb , into the successful agency.