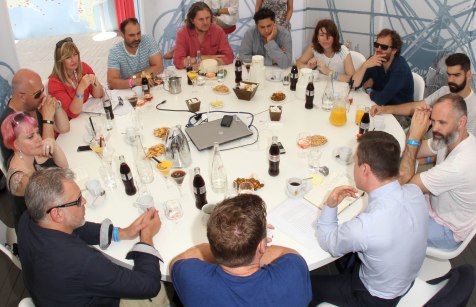 When the idea was first mooted of getting a group of (mainly) creatives to take part in a serious discussion in Cannes, the chances of attracting a full turnout on the day looked smaller than the change from a round of drinks on the Carlton Terrace.
Yet all 12 invitees triple-confirmed and showed up, bright-eyed and eager for the debate, hosted in association with Google. Some even flew out especially from the UK that morning; one employed three types of transport to bring him to Cannes from a holiday in Italy.
The subject that lured them there: the challenges of digital communication. As the sun dried up some uncharacteristic Cannes rain, the rose and conversation flowed. Here are just some of the edited highlights ...
---
EXPERTS AT THE TABLE
Chris Clarke, chief creative officer, LBi
Rik Haslam, chief creative officer, Rapp
Laura Jordan Bambach, creative director, Dare
James Hilton, co-founder and chief creative officer, AKQA
Elspeth Lynn, executive creative director, M&C Saatchi
Hamish Nicklin, head of creative agency partnerships, Google
Leon Jaume, executive creative director, WCRS
Zaid Al-Zaidy, chief strategy officer, TBWA
Lucy Jameson, outgoing executive strategy director, DDB
George Prest, executive creative director, R/GA London
Thiago de Moraes, creative partner, Abbott Mead Vickers BBDO
Lolly Thomson, executive creative director, McCann Erickson
Philip Smith, head of content solutions, Campaign
---
Consumers - or "people", as LBi's chief creative officer, Chris Clarke, controversially likes to call them - haven't changed that much during the last millennium. Essentially, they are receptive to things that make life easier, less cluttered and more fun, James Hilton, the co-founder and chief creative officer of AKQA, pointed out.
However, technology has created "a very media- intelligent audience," Laura Jordan Bambach, the creative director at Dare, noted; an audience, Google's head of creative agency partnerships, Hamish Nicklin, added, that has the ability to skip ads if so desired: "And that's scared the hell out of everybody."
Therein lies the creative challenge, of course. When 90 per cent of ads are shockingly bad, according to Thiago de Moraes, a creative partner at Abbott Mead Vickers BBDO, the answer is, as Clarke put it simply: "Create an ad that's not skippable."
De Moraes warned: "The reality is that unless you create something that competes with the rest of popular culture in terms of quality, nobody's going to watch it. If you do a 90-second TV ad, it should be as good as anything up for an Oscar that year and, if we do a game, it has to be as good as Angry Birds. That's part of the joy of doing our jobs and can only be a good thing."
Technology also makes our ability to learn so much greater, Leon Jaume, the executive creative director at WCRS, noted. And developments in neuroscience now "allow us to justify what we've always intuitively believed", Lucy Jameson, the outgoing executive strategy director at DDB who will soon join Grey as its chief strategy officer, said.
Yet technology, and the ability to measure more things and measure them more accurately, can also "constrain just a little bit of the magic," Jordan Bambach said.
It's often that magic that evokes the all-important emotional connections. "I think we'll see that emotional connection is the most important thing in the vernacular of communicating in the social space," Clarke said. "People don't buy stuff for rational reasons. That's bollocks." Yet, Jameson noted, "clients are still asking: 'How can I get this message across?' And that's the biggest killer."
Looking beyond social media, broadcast TV still has huge reach and plays into people's inherent laziness, some around the table believed. "Although utility, services and experiences sound great, sometimes people don't want anything at eight o'clock in the evening," Rik Haslam, the chief creative officer at Rapp, said.
Elspeth Lynn, the new executive creative director at M&C Saatchi, disputed the notion. "People aren't lazy," she rebutted. "They're looking for something to inspire them."
George Prest, the executive creative director at R/GA London, agreed. "When an ad is great, people hunt it out and watch it again on YouTube. The challenge is how to make all of them great." So great, in fact, that people want to share them. One of Lynn's clients says he won't buy any ads he doesn't believe are sharable - something he wouldn't have uttered five years ago.
So, how else are clients changing, if at all? "I think a lot of individual clients want to understand what's going on around them, but the thing holding them back is the industrial logic of their businesses," Clarke said.
They are not the only ones. Agencies, too, have legacy systems, Jameson admitted. And structural change is not always easy to bring about. "You can't plant a field of mushrooms; you have to create the right temperature and environment and hope they'll grow," Zaid Al-Zaidy, TBWA's chief strategy officer, said. "In the same way, you can't plant digital creative in an agency; it's about creating the right environment." The way AKQA does it is to have small creative teams ("much like SWAT teams") that are "played" on a client's business, while another is got "match fit". When the first team shows signs of tiredness, it is moved elsewhere and others are brought in. "That's how you keep things really agile and keep the energies up," Hilton explained.
R/GA London's approach is to ensure that any "creatives" it employs can actually make stuff. "It's no longer enough to have a great idea and give it to someone else to make," Prest said. "Copywriters need to be able to write a website, visual designers need to be able to design a website and interactive designers need to be able to create an experience. We don't have 'art directors' because they don't bring us anything. We don't carry people."
Such morphing and reshaping of typical roles is a reflection of the way agencies' output is having to stretch far beyond pure advertising - into service design, product development, gaming, business change, content development, and so on.
"For years, brands have been able to bullshit people," Prest said. "What we are doing now is writing non-fiction. If a brand says something now, people go online and question whether it's bullshit."
There's a huge lesson to be learned, according to Hilton, in that "the best advertising isn't advertising, it's service design. It's providing things for people to make their lives better rather than just flog them stuff." Prest agreed: "There's a value exchange inherent in everything we do." The onus is also on agencies to steer clients through these uncharted waters, everyone agreed. Marketers must find it overwhelming, Lynn acknowledged.
LBi recently launched a social business design unit, which it plans to grow rapidly. "The demand is huge for clients to reorganise because they have to. And, as an industry, if we don't get involved in shaping those marketing departments and those companies, then the best work we come up with won't get bought," Clarke said. "We're almost more involved in business-change models than advertising," Hilton added.
Even when it comes to traditional advertising, agencies need to help clients appraise themselves. "Brands need to get naked and stand in front of the consumer," Al-Zaidy urged. "Agencies should be saying to them: 'Make it simple, make it small, be honest with yourself.' Some organisations make it cold, static and artificial."
In fact, "there's a lot of fun to be had in embracing the elephant in the room about your brand," Jordan Bambach agreed. "Marketers need to be a bit braver in saying: 'I'm like this.' There's an obsession in digital with being massively popular and 'liked'. In fact, it's OK to be a little bit edgy."
What brands sometimes don't realise, but it's vitally important to understand, Hilton added, is that "if I 'like' them, it's not that I like their brand, but that I like my friends. I'm not suddenly a brand advocate."
The trouble is, "we're all scared of the complexity so we don't have the right conversations with clients", Jameson pointed out.
"Yes, we're all fart-arsing about with the communications layer when, actually, something much bigger is happening," Clarke said. "We're on the cusp of the third industrial revolution with 3D printing that is going to bring manufacturing back from China and the whole idea that everything is shifting to the East will be challenged. There's so much cool technology out there."
Crucially, technology will also help define some significant moments, Nicklin said. "There are certain moments when people are around the web which really do matter, moments that are important to an individual and when we as brands have a right to enter the conversation. We need to figure out which they are and to win them - and it's actually not that tricky."
Winning those moments is likely to be contingent on super-smart content, however. How is that drive for "content" affecting the creative challenge in advertising and what does "content" mean?
"The opportunity for brands is this: what if they saw YouTube as a channel for content and then that's connected to the TV?" Nicklin asked. "That's super-exciting," Clarke acknowledged.
On the other hand, many people use the term "content" as a "bit of a cop-out", Hilton noted: "It's just stuff." What content should mean is "containing something and something of value," Prest said. "What makes you excited? Every day we sit down and say: 'Is this going to improve people's lives and make the world a better place?' And if it's not, then we don't do it."
"It's interesting, this idea of content as a channel," Lolly Thomson, the executive creative director at McCann Erickson, said. "We realised that there are 400 million Ikea catalogues in the world, second only to the Bible. If that's online, then all of a sudden you've got a channel that you can have real fun with."
"That really is an awesome thing," Clarke said. "No-one wants to reinvent Facebook and no-one can try to be a Google, but there are some amazing properties out there like Man United or Lady Gaga that are actually bigger than those channels and can feed and amplify them. The sheer connectedness that the Ikea catalogue has in the culture is amazing."
But "content" as a term is sufficiently generic that "if you don't know what you're doing, you can call it content", de Moraes said. And with the need to come higher up in search rankings, "there's a pressure to put more stuff and fresher stuff out there", Clarke noted.
Where does this leave search and display advertising? Views were mixed. "Display promotes search results by a huge amount," Lynn said. "If you trigger something within display, you get people searching." But, Haslam argued, "telly ads are inside the content, display is outside the content and is pointless. We do a load of display ads, we're really good at it, but it always feels like a blunt weapon." Nicklin agreed: "It is a blunt weapon, but from a direct-response point of view, it works. There are some awesome things we've done with display, like Project Re:Brief with Coca-Cola, in which you can send a Coke to the world with a message."
If it's used by clients "tip-toeing their way into the digital space, then, frankly, it's not smart," Al-Zaidy said. De Moraes admitted that display comes last on a creative's list. But what if it was set as the creative limitation, Thomson mused? How would creatives approach it then?
On the contrary, search is not at all limiting, Prest believed: "I think it's an incredibly liberating thing for brands in the online environment. Search is storytelling. If you are a deodorant brand that gets rid of sweat, you make sure that as soon as anyone talks about sweat, you come up. Once you've sorted that out, you're liberated to do anything else."
Haslam agreed: "Display is limited, but search and content are unlimited. Search is the bigger place to play."
Clarke believes there is a cultural shift at play. "There is a massive opportunity to unify bought, owned and earned media, and multisignal search is a step in that direction," he said. "It's super-exciting for creatives as it should mean good content will make Google results better."
Not only that, Jordan Bambach said - search engine optimisation can also help sell ideas to clients: "As a creative, I know it feels dirty, but it actually helps you sell braver ideas to clients, particularly when you're looking at really interesting or challenging social media campaigns where metrics are hard to prove."
Talking of metrics, the creative and strategy experts around the table were also quick to acknowledge the power and importance of data - and the part that data visualisation can now play in devising brand communications. "Why is data exciting? Because it's true and what we want is truth," Lynn said. Data, Haslam said, is "the dominant media of our time. Very few creative people in the business are data-literate. In 50 years' time, everyone will be. We won't employ anyone who isn't."
And finally ... as the discussion drew to a close, we asked our contributors what they would like to see in Cannes next year.
Jordan Bambach: "More work that picks a fight" - and greater alignment between Cannes and Cannt (the festival for those left in London).
Clarke: "More evidence that creatives are understanding search and that search companies are understanding creatives - a massive opportunity."
Nicklin: "This is the first year for branded content at Cannes and there were two UK entries. This is a massive area and I'd like to see more from the UK, done properly."
Thomson: "Storytelling through data."
Jameson: "I judged Creative Effectiveness. I'd like to see somebody proving that some of the stuff we all get really excited about actually works."
Prest: "James (Hilton) and Sir Martin Sorrell on stage together." (AKQA's acquisition by WPP was announced on the newswires during the debate.)
Hilton: "I want to be inspired, I want Google to continue to show everyone else up and how it should be done, and to see George (Prest) in a mankini."