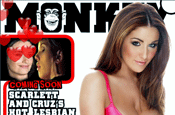 The mobile edition will provide highlight content from the internet version such as outrageous stunts and comedy clips as well as specially created mobile features.
The service launches with a sponsorship deal in place with Twentieth Century Fox to promote its latest spoof comedy film Meet The Spartans. As part of the deal the film's trailer will run within all content on the new channel.
The service will be available to customers of all UK mobile networks. It can be downloaded by texting the keyword Monkey to 63333.
Andrew Nicholls, partnerships and mobile manager at Dennis Publishing, said: "The huge popularity of Monkey as a digital magazine has led to the natural progression of the brand onto mobile.
This exciting new launch offers Monkey fans access to the content they want at the point of impulse.
It also offers forward-thinking brands a chance to get involved with yet another pioneering digital product from Dennis Publishing.
Monkey TV effectively blurs the line between content and adversting, challenging brands to be more creative."