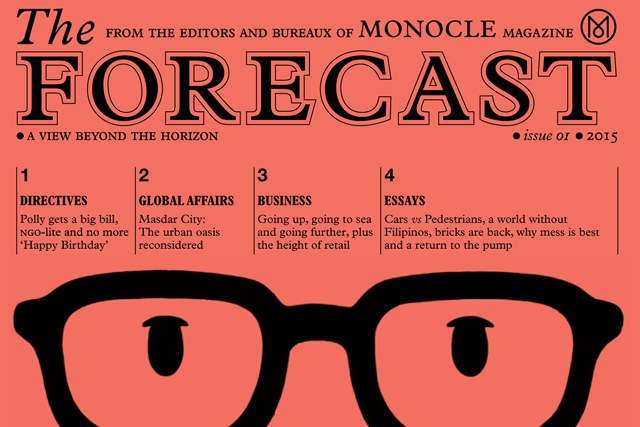 It is designed to be read over three months. Advertising will be restricted to category-exclusive sponsors Rolex, Audi, Cathay Pacific, UBS, Hapag Lloyd, and Stora Enso.
The 240-page publication will include assessments, photo essays, illustrated portfolios and long reports, as well as copy from a range of correspondents, business minds, historians, urbanists and diplomats "offering views from balance-shifting defence systems to fresh benchmarks in city planning".
The launch will be supported by activity over the week across Monocle 24, the 24-hour radio station, and a Monocle film.
Tyler Brulé, the editor-in-chief of Monocle, said The Forecast would "fit a gap from a format point of view but also from an audience perspective.
He said: "We wanted to do something new. To challenge ourselves. We thought there was a reason to get our audience when they are taking a holiday."
Rather than selling advertising in a traditional way, Monocle sold The Forecast's ad spots in the form of exclusive category sponsors, a strategy that has generated more than €1 million in ad revenue.
Brulé said the ad haul represented a mid-level issue of Monocle. "We have issues that clear the €2million region," he said.
The high-end brands partnering the magazine – Rolex, Audi, Cathay Pacific, UBS, Hapag Lloyd, and Stora Enso – will each be offered first-refusal to be an exclusive category sponsor of next year's issue of The Forecast.
The Forecast is not part of the main Monocle subscription package. It can be purchased in the same shops where Monocle is sold on the newsstand and Brulé expects it to have a global circulation of 75,000 to 85,000.
The December/January issue of Monocle comes out in mid-November. The February issue is not out until mid-January.