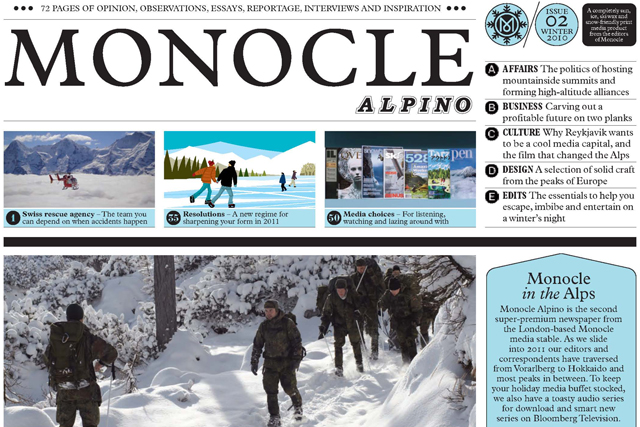 According to the publisher, Monocle Alpino will be concerned with "everything at 1,500m up". The launch comes after the magazine, which is masterminded by its founder and editor-in-chief Tyler Brûlé, launched a summer publication this year called Monocle Mediterraneo.
Monocle Alpino will be available in all Monocle shops and selected newsstands from 16 December for eight weeks, priced at £4. Launch advertisers for the title include Rolex, Pictet, Nissan and Moncler.
In addition, a large proportion of the distribution will be concentrated at airports and at ski resorts, targeting Monocle's affluent, well-travelled readership.
A spokeswoman for Monocle said: "Monocle Alpino will have a bigger pagination, print run and distribution, due to the success of the brand's debut summer paper, Monocle Mediterraneo, in July this year."
Brûlé said: "The newspaper will be similar to the first edition in terms of targeting our readers on their break. This time distribution will stretch from Aspen to St Moritz to Niseko – and all Alpine nations."
The publication, which will be edited by Monocle's London team, will include features such as which architect you would want to build your perfect mountain retreat, the best winter dishes, and a spring fashion preview.
In addition to the print title, Monocle Alpino will be replicated online at monocle.com and the publisher will also produce a radio programme to accompany the launch, called The Weekly Monocle Winter Series.
The Weekly Monocle Winter Series is set to feature live music, discussion and debate. It will be sponsored by BlackBerry.