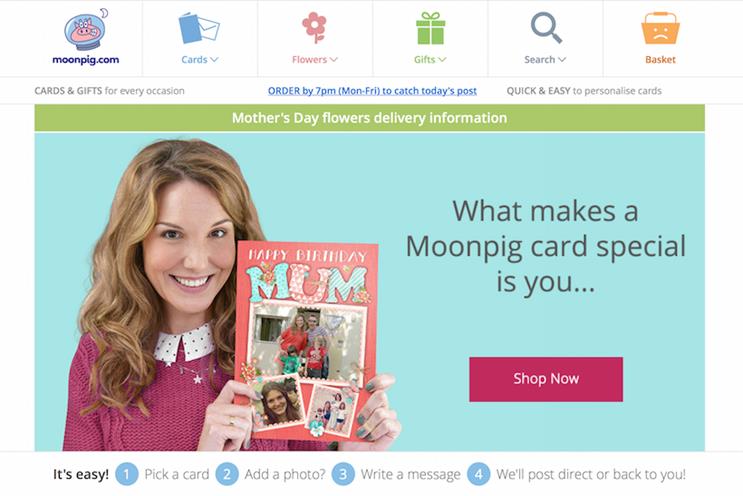 Moonpig says sorry for Mother's Day delivery failures
Moonpig has apologised after dozens of customers complained about deliveries of cards and flowers for Mother's Day.
The greeting card company's Twitter and Facebook feeds were inundated with complaints from people who said gifts had either not arrived or had turned up damaged.
Moonpig said there had been "an issue" with a supplier which had delayed the delivery of flowers to some customers.
The company apologised and said it had compensated those who were affected.
Moonpig had previously advertised on television that gifts ordered by 14:00 GMT on 4 March and flowers ordered by 16:00 on 5 March would be delivered in time for Mother's Day, with couriers delivering on Sunday.

Source: BBC
Npower to cut 2,500 UK jobs
Npower, one of Britain's biggest energy suppliers, will outline plans this week to axe thousands of jobs as its German owner attempts to revive the company's weak financial performance.
Sky News has learned that Npower will tell staff in the coming days that approximately 2,500 roles at the company and its partners are to be axed.
Sources said the proposals were still being finalised, with some of Npower's directly employed workforce of 7,500 at risk and the remainder of the cuts taking place at internal suppliers elsewhere in the RWE group and at outsourcing partners.
Including indirect employment, Npower's operations support about 11,500 jobs in the UK - meaning that its workforce is braced for a reduction of over 20%.
The grim news will be delivered just days before competition regulators announce a series of measures aimed at making the UK's energy market more transparent.

Source: Sky News
Insurers react to Chancellor's pensions relief u-turn
Insurers and fund managers have cheered the chancellor's U-turn over pension tax relief, but have warned that he is merely postponing changes.
George Osborne has dropped a plan to scrap upfront relief, worth an estimated £21 billion to savers, after it was attacked by Baroness Altmann, the pensions minister and a former consumer campaigner, and other Conservatives.
Steve Webb, a former Liberal Democrat pensions minister and now director of policy at Royal London, said: "It is good news that plans to turn the pension system upside down have been dropped."
Richard Parkin, head of pensions at Fidelity International, said: "We expect this is action postponed rather than action abandoned."

Source: The Times
Catch up with some of our longer reads...
It's tempting (and useful) for marketers to put people in neat demographic boxes. But, as consumer lives become more fluid, age-agnostic and globally minded, is it time to put a stop to generational generalisations, asks Rebecca Coleman.
At a time when parenting is endlessly interrupted by digital communication and social media, brands must beware of exacerbating the pressure on women, writes Nicola Kemp.
If you watch one video today...
...hear what the public think of the Conservative government spending £5m to promote the new National Living Wage.