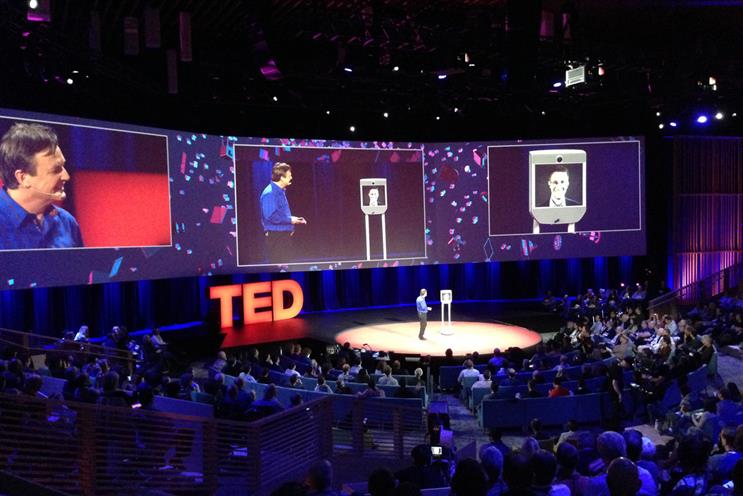 It's hard to describe TED to someone who has not been. It's like being a foie gras goose – except that, instead of corn mush, your head gets stuffed full of incredible ideas: interesting, innovative, challenging and, sometimes, possibly downright barmy. But there's always at least one really useful and inspirational thing in every talk for a current or future creative brief.
Over the course of four days, you watch around 130 talks. Selecting the best 12 is not an easy task, but the talks that stuck in my head for various reasons were these.

Edward Snowden (main picture): He was, in a way, the "headliner" of TED2014. Joining from a secret location in Russia via a screen on legs, or "SnowBot", he discussed the morality and implications of his whistleblowing. Sir Tim Berners-Lee took to the stage to debate the implications of Snowden's revelations on privacy and the open internet. The TED audience is pretty much 100 per cent Democrat, so Snowden had a sympathetic ear – unlike the US National Security Agency director who retorted the next day to pretty much universal disdain and suspicion.

Ziauddin Yousafzai: Better known (proudly) as Malala's dad, Yousafzai spoke eloquently about the impact of the Taliban's attack on his daughter and how he empowered her education. It's easy to take your Western life for granted when you've got Cameron Diaz sitting on your left and Al Gore in the row in front (seriously), but he was pretty humbling: "People ask me what I did to make Malala so bold and courageous. I did not clip her wings."

Hugh Herr: The "moment" of the conference. He's a double amputee who has spent his career developing "bionic" prosthetics that go beyond the usual. His biotechnology can potentially even make the "able-bodied" superhuman. He finished the talk by bringing out the dancer Adrianne Haslet-Davis, who lost a foot in the Boston bombing, to demonstrate the true power of his technology: "In 3.5 seconds, the criminals and cowards took Adrianne off the dance floor. In 200 days, we put her back." Not a dry eye in the house. Stunning stuff.

Kathryn Hunt: She is pioneering the science of paleooncology. Yes, that's right. She's extending the lifespan of cancer research from 100 years to 8,000 years by studying cancer in the ancient world. World-changing.

Chris Hadfield (below): Pretty much the coolest dude on this planet. He chatted about Nasa, sang Space Oddity (again) and talked about how to conquer fear: "By looking at the difference between perceived danger and actual danger, you can fundamentally change your reaction."


Zak Ebrahim: The son of the 1993 World Trade Center bomber, brought up on extremist views, spoke about the dangers of extremism and how he chose the path of peace. "I am not my father," he said – he most certainly isn't.

Jon Mooallem: He explores how we look at animals and the conservation implications. He thinks it might come down to the species we "like" that we unconsciously decide to save from extinction. After all, what was cuddly about bears before Teddy Roosevelt turned them into a kids' toy?
Del Harvey: As the head of trust and safety at Twitter, Harvey is in charge of developing ways to keep its users safe. She's certainly the coolest "security maven" I've ever met. She talks about the difficulty of doing what she does at the scale at which she does it. After all, with 500 million Tweets sent every day, she argues that a one-in-a-million chance happens 500 times a day in her world.

Ed Yong: Incredible talk on parasites. He argues that humans could well be being mind-controlled by parasites. Far-fetched? There are parasites that live in the mammalian brains of rats, programmed to guide the rat to suicide-via-cat (because this is the only host body within which it can reproduce). It could explain why we watch so many bloody cat videos. That's the great thing about TED: the potentially ridiculous and the devilishly plausible in one go.

David Epstein: The sport scientist talked through the amazing advances in sporting performance over the past 30 years and the mostly technology-based explanations for them: "The large got larger, the small got smaller, the weird got weirder."

Shaka Senghor: Did 20 years for murder and now rehabilitated, he spoke very powerfully on prison reform and his three-stage process: acknowledgement, apology and atonement. Incredible.

Jennifer Senior: The writer gave her theories on modern parenting and why it is more akin to a "crisis". She argues that we put too much pressure on parents and children through books and advice to be happy – and that it is killing the joy of parenting. As a stressed dad, I was convinced.

So that's the 12. I feel pretty guilty for the 60 or so talks I could have referenced. Andrew Solomon and Gabby Giffords nearly made the cut.

I didn't mention light-sensitive origami cockroaches or the amazing performances by Amanda Palmer and Imogen Heap. A final special mention goes to Deborah Gordon, who studies ant colonies to see what we can learn for managing technology networks, for coining the term "the anternet".

I've been six times before, and this was the best yet. It's amazingly inspirational for the day job of a planner to see/hear such ambitious, lateral, inspirational and diverse thinking. You should do anything and everything you can to get a ticket to TED2015; I'll see you there.

Kevin Chesters is the executive planning director at Mcgarrybowen