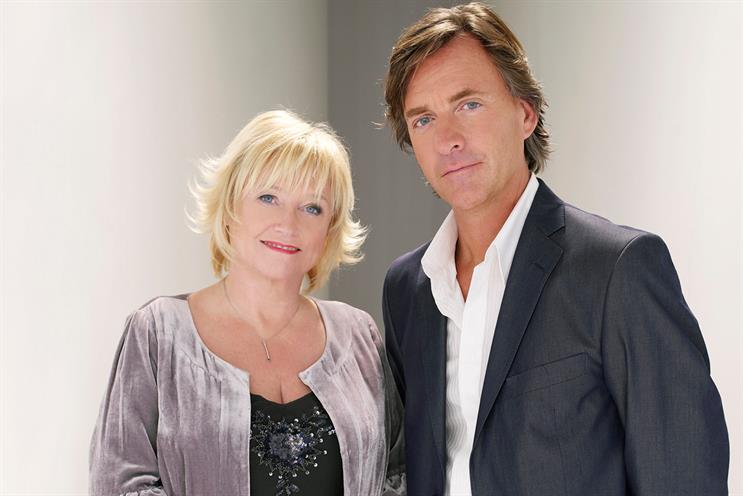 2 May 1995…
The highlight of the earliest manifestation of This Morning (then presented from a studio at the Albert Dock in Liverpool) comes when a streaker swims to Fred Talbot's floating weather map out in the dock. His bits dangling, the streaker attempts to emulate Talbot's leap from Scotland to Ireland, but comes up short, dunking himself once more in the water. The hosts, Richard Madeley and Judy Finnigan, almost die laughing.
27 June 1998…
With the show now in London, Richard and Judy (pictured) start pulling the odd cheeky stunt. Their shamelessness is no more clearly illustrated than when they interview three naked guests, supposedly to celebrate the work of The Naturist Foundation.
30 October 2002…
John Leslie, who had joined the show as a presenter in 1999, is sacked after a number of scurrilous tabloid newspaper stories about his private life. Granada TV's statement reads: "We have asked him what he intends doing to challenge [these stories] and, as yet, we have had no response. As a result, it is no longer possible for him to present This Morning." Though he is arrested in connection with the allegations, he is not charged.
22 October 2008…
During a train crash of an interview, Kerry Katona's speech is so shlurred that the presenters, Fern Britton and Phillip Schofield, ask her if she's an alcoholic. Katona blames her performance on some prescription medication taken the night before to help her sleep. They also discuss how doctors warned her to stop smoking or she'd risk her nipples falling off. "I did keep smoking, but they haven't dropped off," she explains.
22 November 2012…
Now Schofield (pictured) ambushes Prime Minister David Cameron with a list of people alleged on the internet to be paedophiles. Some of the names on this list are (technically, just about) visible on screen. Lord McAlpine sues – ITV settles for £125,000.
Fast forward…
17 January 2014 Schofield keeps his head down for a while – but ratings are on the slide. So, now, during an interview with the re-reformed Girls Aloud, he asks one of them if she's a lesbian. She says she isn't. Later, Schofield is fined £500,000 by Lord Leveson, the chairperson of the British Board of Media Censorship, and is forced to make an on-air apology. He blames prescription medication taken the night before to help him sleep.