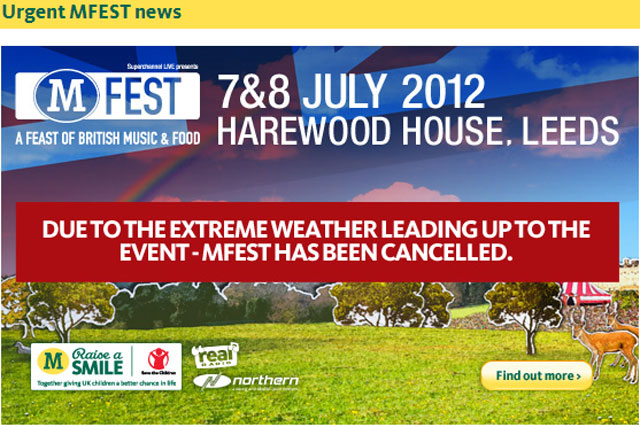 The two-day event was due to take place on 7 and 8 July, and was expected to attract up to 15,000 visitors a day. Acts confirmed on the bill included 'The X Factor' winner Matt Cardle and runner-up Cher Lloyd, along with Texas, Soul II Soul, Human League, Inspiral Carpets and Paul Heaton, former front man of The Beautiful South and The Housemartins.
Michelin-starred chefs including Aldo Zilli and Atul Kochhar were booked to provide cooking demonstrations at the festival, using the supermarket's produce.
A message on the MFest site said: "It is with our deepest regret that due to the adverse weather conditions leading up to this event, in conjunction with the extreme weather warning as issued by the met office for the weekend, we were left with no other decision than to abandon this weekend's MFest.
"This is a joint decision made between the promoter, the production team, health and safety and Harewood House. The public's health and safety is of paramount concern, therefore it would be irresponsible to continue however disappointed we all are."
Information on ticket refunds will be issued on Monday 9 July, representatives of MFest said.
GMG Radio's Real network had signed a partnership with Morrisons to be the exclusive media partner of the festival.
Last month, Marketing asked if the adverse weather conditions might ruin brands' summer marketing plans.