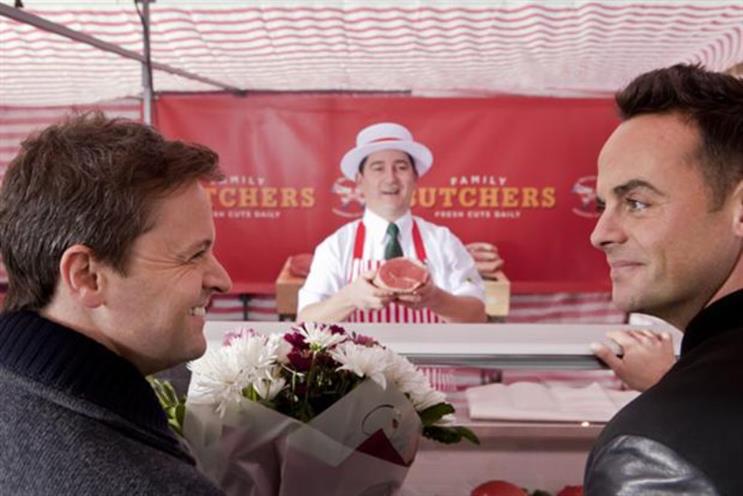 The struggling supermarket, which last week reported its worst results in eight years – a loss before tax of £792m – is believed to be shifting the tone of its ads towards value and quality in a bid to fight competition from Big Four rivals and German discounters Lidl and Aldi.
A new multimillion-pound integrated campaign is scheduled to break on Saturday 28 March, with TV work understood to be featuring a number of celebrities, but not Ant and Dec.
The activity will be the supermarket's first major campaign since Mike Hoban joined as brand and communications director last year.
Ant and Dec have starred in Morrisons' TV ads for just over two years. The relationship between the retailer and 'Britain's Got Talent' presenters harks back to January 2013, when news broke that Morrisons was making a multimillion-pound investment in the duo, putting them in its TV ads and sponsoring the ITV talent show.
News of the celebrities' and Morrisons' parting of ways comes despite the fact that last month, Morrisons signed up to sponsor 'Ant & Dec's Saturday Night Takeaway' to try to drum up joiners to its Match & More loyalty scheme. Marketing understands that this will not impact the supermarket's sponsorship of the TV show.
Morrisons is preparing to turn around its ailing business performance, with new advertising and senior management changes, including the arrival today of new chief executive David Potts, who replaces incumbent Dalton Philips.
According to a report in the Mail on Sunday, "sources close to Ant and Dec" said they were the ones to end the relationship, adding that they had been offered a 12-month contract but turned it down.
But "business insiders" told the paper that Morrisons had terminated the deal because it wanted to focus on "value credentials and the quality of its food, which the duo no longer represent".
---
Recommended